The Bottle Rockets


Bottle Rockets / The Brooklyn Side (Deluxe Edition)
Bloodshot Records [2013]




Fire Note Says: Two influential Americana records that you should have in your collection.
Album Review: While Americana fans are looking forward to the re-issue of the mother ship album that launched a movement and named a fanzine, Uncle Tupelo's No Depression, at the beginning of the new year (for the second time, Legacy released it in CD in '03), we have here in this re-issue of the first two Bottle Rockets albums an equally potent and influential voice. You'll want to remember that Brian Henneman's Chicken Truck came up in the same St. Louis clubs that gave UT its start, and then he toured with them as an auxiliary guitarist, and played a variety of string instruments on the recording of March 16 – 20, 1992. Thus, the four bonus tracks on disc one here, where Henneman demos some of his own songs with Uncle Tupelo as his back-up band, recorded in 1991.
By the time they got around to recording Bottle Rockets, Henneman's mix of classic rock and country influences had made a strange truce, if not peace, witnessed in the two opening songs. "Early In the Morning" found Henneman solo on a simple country banjo insisting on pronouncing it "err-lie," while "Gas Girl" was a big bold full-band rocker with a tilt of the hat to his biggest influences, Neil Young & Crazy Horse and Lynyrd Skynyrd. Sometimes they leaned hard toward country, as on "Every Kinda Everything" and "Hey Moon," other times they rocked hard and true on the punky "Rural Route" and "Trailer Mama."
At times, like "Gas Girl," they wrote with the youthful longing of someone hoping things develop into something for "Penthouse Letters," but they sneak up on you with other songs that carry a surprising level of insight and, dare we say, wisdom. "Kerosene," the song from their debut that most often gets pulled out for live sets, addresses poverty and loss, while "Got What I Wanted" deals with the heart-breaking reality of chasing after a wild woman. "Wave That Flag" reminds folk that the Confederate colors were rooted in slavery and cruelty. Not your standard rowdy-rebel fare by a long shot.
A case could be made that Bottle Rockets are one of the earliest and best examples of the music that has come to be known as Americana. Unlike too many in the modern country camp, the Bottle Rockets never merely imitated the AOR radio sounds of the 70's & 80's throwing in a bit of fiddle or slide for color. Rather they absorbed the best of old school country songwriting, as well as the classic rockers, creating their own brand of unique songs, sometimes part homage, sometimes hybrid, but always cut from something that was human an real.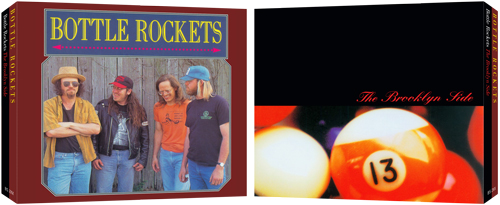 There was no sly irony when they offered up a musical salute to the likes of George Strait, and they didn't need to fake it when echoing the likes of Tom Petty or, for that matter, AC/DC. Bottle Rockets approach to the roots and rock music of several generations are echoed across their 21 year history and 11 albums, all good, a few great.
For many fans, though, "The Brooklyn Side" is the best of the bunch with two of their best-loved blue collar rockers: "Radar Gun" and "1000 Dollar Car." Funny story: For a while back when the music was fresh, the Rush Limbaugh show as using the guitar hook in "Radar Gun" as a lead in, so Henneman had his management call the show and thank them for their patronage, and then ask them if they'd listened to the disc's opening track, "Welfare Music," with its reference to the "angry fat man talking on the radio, wants to keep his taxes way down low." The song wasn't used after that.
The Brooklyn Side and the Bottle Rockets benefitted greatly from the production of Eric Ambel (Joan Jett's original Blackhearts, Del-Lords, Steve Earle). Pop-rock tracks like "Gravity Falls" and "I'll Be Comin' Around" are crisp catchy pop exhibiting a commercial potential that never came to fruition for the band. Tom Parr's salute to Chuck Berry, "Take Me to the Bank," suitably duck walks across your speakers, and the loud, over-the-top rock of "Sunday Sports" exhibits plenty of machismo to live up to the subject matter, and "Idiot's Revenge" does the opposite of "Wave the Flag," chipping away at the façade of too cool for school liberals. Add in the quiet, soulful country ballads, "Pot of Gold" and "Queen of the World," and you have to know this is the band's classic song collection, solid gold from start to finish.
In the end, these are two of the best of the Bottle Rockets, containing many of the songs long-time fans want to hear at their lives shows, but when you add in the 19 tracks of unreleased demos, and rarities, it's a true collector's item.
Key Tracks:
Bottle Rockets: "Kerosene," "Wave That Flag," "Hey Moon"
Brooklyn Side: "Welfare Music," "Radar Gun" "1000 Dollar Car"
Artists With Similar Fire: Uncle Tupelo / Son Volt / Drive-By Truckers

The Bottle Rockets Website
The Bottle Rockets Facebook
Bloodshot Records
– Reviewed by Brian Q. Newcomb
Latest posts by Brian Q. Newcomb
(see all)