Bottomless Pit


Shade Perennial
Comedy Minus One [2013]



Fire Note Says: Bottomless Pit soldiers on with third slow-burn Shade Perennial.
Album Review: When I read the phrase emotional, transcendent post-punk, I immediately become excited. Let's say it's an excitement that could only be described as a 12-year wait for the next Dismemberment Plan album—and sadly such excitement was only in vain. Taking members from Silkworm, Seam, and .22, Bottomless Pit (Tim Midyett, Andy Cohen, Chris Manfrin, and Brian Orchard) return with their third LP Perennial Shade.
Perennial Shade isn't by any means actively bad—it's just very ordinary. Building on some strong 90's alt-rock through lines, Bottomless Pit remains starkly consistent from beginning track to end—but consistency is only as good as its best representative. "Fleece" sets the tone for the rest of the album, a warmly darkened tone with little left to the imagination. And the more I listened to Perennial Shade the more trouble I had gaining a solid connection. This lack of connection is troubling, especially since Bottomless Pit's past two LP's Hammer of the Gods and Blood Under the Bridge were generally solidly received, if not celebrated by the critics.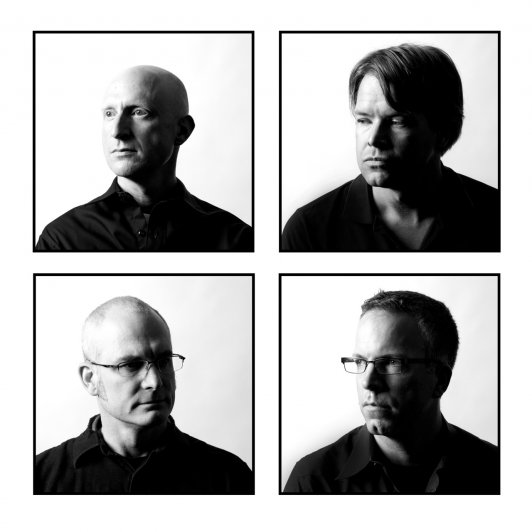 But, as hard as I've been on Perennial Shade, Bottomless Pit always manage work a groove or feel into the albums' 8 tracks—it just takes more effort here. "Incurable Feeling" bounces solemnly along combining dark, mellow elements of Nick Zinner with intruding, bending riff attacks from the likes of The Strokes. "Sacred Trench" goes a bit light-hearted and contrasts that feel with its moody power pop. "Full of Life" seems to be playing a joke on itself, taking cues from the lurching, quiet, downer elements of The Breeders "Mad Lucas," Nirvana's "Come As You Are," or their outcast anthem "Dumb."
Perennial Shade goes a bit more upbeat for the album's end. For me, "Horse Trading" evokes the feeling of a male Dido. "Felt a Little Left" stays positive in timbre but is lyrically the opposite, as Midyett croons: "Felt a little left out." By the time it was all over I didn't know what to feel—empty? Bottomless, perhaps? Bottomless Pit have been playing "their blues" for quite some time, but with each album their vision has adopted the same "hooks" and weakened with each pass. A slow burn indeed, this one is for the fans. If you're new to the band, I'd start from the beginning with their stronger works before taking a careful approach towards Perennial Shade.
Key Tracks: "Incurable Feeling," "Sacred Trench," "Felt a Little Left"
Artists With Similar Fire: Silkworm / Police Teeth / Scrawl

Bottomless Pit Website
Bottomless Pit Facebook
Comedy Minus One
-Reviewed by Christopher Tahy
Latest posts by Christopher Tahy
(see all)