Diane Coffee


My Friend Fish
Western Vinyl Records [2013]



Fire Note Says: Diane Coffee's fuzzy, colorful debut is a wonderful surprise.
Album Review: Would you believe that a former Disney Channel star had made one of the most exciting debut indie albums of 2013? No it's not Britney Spears. Not Justin Timberlake. Not Selena Gomez. Not Christina Aguilera. Good God, this list could keep going, which is a scary thought. So cast aside your biases, predispositions, etc.; Diane Coffee's My Friend Fish is instantly diverse yet warm in a way that embraces you from the beginning.
First things first: Diane Coffee is the pseudonym of Shaun Fleming, who is also the drummer for the band Foxygen. He has also been a voice actor for several Disney Channel offerings, most notably playing the twin brothers on Kim Possible. Fleming's experience as a voice actor is notable on My Friend Fish because he sings with many vocal styles. The baseline is Sgt. Pepper's era John Lennon but he plays around with the formula that for the most part works on the album. That sound is most evident on album opener "Hymn," which even has a breakdown about two minutes into it that is very Lennon-esque. "Hymn" takes its time to build to that interlude and comes back down from that high in a striking manner.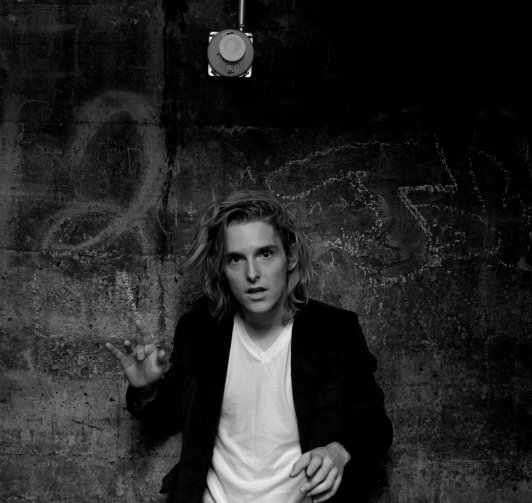 The next track, "Never Lonely," spins a familiar tale of jealousy and bewilderment about his significant other's whereabouts when he's not around. You'd expect more anxiety or paranoia from a song with this theme, but Fleming's tone is more bemused – he's "bummed out" but nothing more. The guitar lick is infectious and Fleming matches that groove with his slow delivery with attitude, which is reminiscent of Marc Bolan. Then comes "Tale of a Dead Dog," which evokes Fleet Foxes and their pastoral feel. Lush with harmony and melody, this dog on the side of the road gets an elegy most of us can only hope for. "New Years" is frenetic and jumpy, mixing dream-like guitar and organs with a funk groove. It works well.
Sadly My Friend Fish does run out of steam on Side B. "Green" closes the album on a bright note. With a song or two less or a bit more focus on some of the throwaway tracks, I would gladly give Diane Coffee Headphone Approved status. That being said the listening experience for My Friend Fish has been one of my favorites of the year. You'll be pleasantly surprised if you give this album and Diane Coffee a chance.
Key Tracks: "Hymn," "Never Lonely," "New Years"
Artists With Similar Fire: Of Montreal / Girls / Foxygen
Diane Coffee Website
Diane Coffee Facebook
Western Vinyl Records
-Reviewed by Matthew Heiner
Latest posts by Matthew Heiner
(see all)