Kim Deal


"Are You Mine" b/w "I Wish I Was"
Self Released [2013]


It's great to see that The Breeders are out in full force this year as Last Splash continues to sweep the world—seriously, if you haven't seen them, do yourself a favor (they just added some new dates in December). But their busy schedule still hasn't stopped Kim Deal from focusing on a string of little solo side project releases. With the sweet "Are You Mine" and the easy going instrumental "Wish I Was," the Kim Deal Solo Series finds itself becoming a bit more subdued.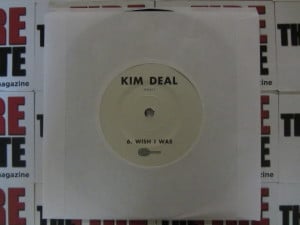 Past entries in the series have provided the post punk scorcher "Walking With A Killer" and The Amps-like stylings of rocker "Hot Shot." Here we find Deal falling more in line with the lullaby tones of track four "Likkle More." "Are You Mine" takes inspiration directly from Deal's personal life. Living with her mother who has Alzheimer's, Deal will be periodically asked with the question "Are you mine?" to which she'll answer back "Yeah momma, I'm yours." Accompanying this track, a music video can also be found featuring a motherly tribute in the form of Deal's mother's salt and pepper shakers. Deal has always had a knack for vocal warmth when it's needed, and with its sympathetic instrumentation "Are You Mine" presents an atmosphere that will make you care.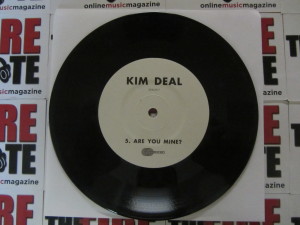 The B-side only furthers the atmosphere with the ramshackle, lackadaisical beauty of "Wish I Was." The best way to describe this instrumental is a quiet Honolulu dawn, sky painted with pink, oranges, and dark blues, a call, reoccurring tides, and toes in the sand.
The presentation here is no different than other entries in the Kim Deal Solo Series. Limited to 1,000, cut in black wax with a plain white die-cut sleeve, with track numbers five and six showing these are part of a series. Sadly, the limited 7" is already sold out and doesn't come with a download card—but the good news is that you can still pick up the singles on iTunes, or for all you wax fanatics out there the art sleeve edition of the series should be issued very soon. This is Deal at her most reflective and heartfelt, and I definitely recommend picking it up in any way, shape, or form.
Kim Deal Website
-Feature by Christopher Tahy
Latest posts by Christopher Tahy
(see all)