Minor Alps


Get There
Barsuk Records [2013]



Fire Note Says: Juliana Hatfied and Matthew Caws (Nada Surf) make Minor Alps a success.
Album Review: I don't think two indie voices out there right now could be more destined to join forces than Juliana Hatfield and Matthew Caws. The alt-rock veterans have tons of cred with Caws fronting his now 20 year old band Nada Surf and Hatfield with the Blake Babies, Juliana Hatfield Three, Some Girls, The Lemonheads and her solo releases all in her resume. Minor Alps is their debut collaboration which finds the pair sharing lead vocals and co-writing on each of the eleven songs that comprise Get There. The duo also played every instrument on the record aside from some drumming and programming.
This combo creates a very intimate and satisfying listen as you might already guess. Caws typical hush vocal delivery shines in this setting and when Hatfield chimes in on a harmony, it is the perfect complement. On the opening track, "Buried Plans," the pair shows off their together power as they hum along at times in unison over the slightly electronic backdrop. You may think right away that computer savvy is the competent that will set this side project apart but that thought will diminish on the next song, "I Don't Know What To Do With My Hands," which is a solid mid-tempo guitar rock song that is highlighted by Caws and Hatfield singing together almost verse by verse. It is a cool dynamic that I expected to hear and it is a win. The rest of Get There follows the same sort of pattern as most of the tracks are more subdued and really pull you into the chemistry of Minor Alps' voices.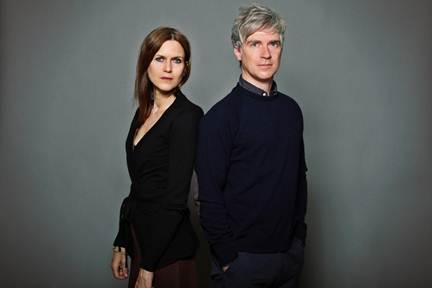 I think fans of both Nada Surf and Hatfield will like Get There just based on the stylish arrangements. It is not a rocking album, so if that is what you are hoping for with Minor Alps you might be slightly disappointed. They do kick it up on the just over 2 minute guitar heavy "Mixed Feelings" but overall Get There succeeds based on the quality of the vocal talent and the song structures. The pulsing "Radio Static" has an exciting cool vibe factor to it as the vocals keep you warm while the mostly acoustic "Maxon" just lets the vocals do all the work.
I truly hope that Minor Alps stick around for another record because I think the work on Get There only scratches the surface of what Hatfield and Caws can produce. Minor Alps is definitely a record that gets better with every spin as the songs just settle into your head. Even though both members here hold back on their guitar attack their chemistry is undeniable as this record crosses the finish line and has you signing up for more right away!
Key Tracks: "I Don't Know What To Do With My Hands", "Radio Static", "Waiting For You"
Artists With Similar Fire: Viva Voce / The Swell Season / Superchunk
Minor Alps Website
Minor Alps Facebook
Barsuk Records
– Reviewed by Christopher Anthony
Latest posts by Christopher Anthony
(see all)