Tears For Fears


The Hurting (30th Anniversary Edition)
Universal/Virgin Records [2013]



Fire Note Says: The Hurting will prove to you that Tears For Fears were much more than just a few hit singles that we all remember.
Album Review: I'm proud to say that the first concert I ever went to was Tears For Fears on their Songs From the Big Chair tour in 1985. I still recall it very vividly, heck I can even tell you who the opening band was, does anyone remember Gowan? I certainly do. By that point Tears For Fears were in the midst of their assault on the US charts, their videos were in heavy rotation on MTV, and their songs were all over top 40 radio. Roland Orzabal and Curt Smith were bona fide pop stars, and for a brief moment were every bit as huge as Madonna, Prince, MJ, or Springsteen. By the time they followed that album up in 1989 with Sowing the Seeds of Love, I was off to college and really didn't give them much thought anymore other than to think the title track was pretty cool and very Beatlesque. I had moved on, as had much of their core fan base in the States, we grew up and out of the band. I regret that at the time I never took the time to go back and investigate their first album, The Hurting, which now, 30 years later is getting a huge deluxe reissue.
Before I talk about the actual music contained in this box set, I want to comment on what's included. You get the original album, remastered at Abbey Road with the full cooperation of the band. You get a disc of alternate mixes, outtakes and b-sides, a third disc of BBC sessions, and a dvd of a live performance from 1984. This is the definitive The Hurting experience, it's the next best thing to actually being at the recording sessions. Open listening to The Hurting for the first time, I was shocked by two things. The first was the style of the music. This is very 80's music, but more along the lines of Depeche Mode than what we tend to think of as the Tears For Fears sound. The second thing that struck me was lyrics and subject matter. These are dark, cathartic songs. These songs are the sound of Smith and Orzabal working out the demons of their youth and trying to move forward into adulthood. It was interesting to listen to the album and then listen to Songs From the Big Chair. It became obvious to me that on The Hurting, they were really struggling with the past, but on Big Chair, they were working through that and were able to begin the healing process and even begin to see some hope. It was a fascinating listening experience.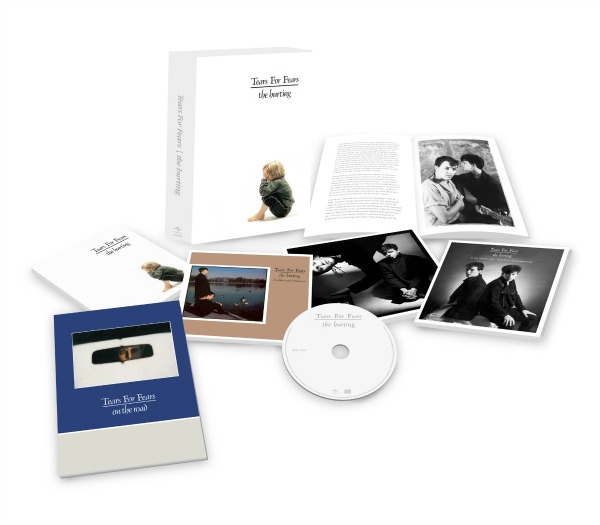 Similar to John Lennon's Plastic Ono Band album, The Hurting was also heavily influenced by Arthur Janov's Primal Therapy. One look at the song titles will reveal much about their state of mind, "Suffer the Children", "The Prisoner", "Watch Me Bleed"," Mad World", and of course "The Hurting". The music is very sparse and creates a feeling of isolation, and their voices while still very sweet almost sound like they are pleading to be heard at times, almost like a desperate cry for help. It can be quite overwhelming if you sit in a dark room and really pay attention to the lyrics.
All of the extras that come in this box set serve as icing on the cake. The alternate takes are interesting, particularly the slightly slower version of "Change", and the b sides are exactly that. Nothing was really left off of the album that should have made the record, but they are certainly of high caliber and add to the overall story that the album tells. Are six different versions of "Suffer the Children" really necessary? Probably not, but I am certainly glad they are on here, because it's a pretty great song, and each take is different enough to not make it feel like you are hearing the same song over and over. This deluxe reissue goes a long way towards proving that Tears For Fears were much more than a few hit songs that we all remember, and worthy of a total career reassessment beginning with The Hurting and moving forward from there.
Key Tracks: "The Hurting", "Suffer the Children", "Mad World"
Artists With Similar Fire: Depeche Mode / Joy Division / Howard Jones

Tears For Fears Website
Tears For Fears Facebook
Virgin Records
– Reviewed by Kevin Poindexter
Latest posts by Kevin Poindexter
(see all)