Frog Eyes


Carey's Cold Spring
Self-Released [2013]



Fire Note Says: Carey Mercer confronts riots, protests, storms and floods – and his own mortality – on his sixth album as Frog Eyes.
Album Review: The Bandcamp page which is being used to sell Carey's Cold Spring also details the vision Mercer had going into the writing and recording process. He talks about leftist factions and firing squads, paranoia and chirping birds. In other words the liner notes are as confusing as his lyrics often are. This time out, however, there is no unifying concept. No overarching theme. But two items relating to loss and human frailty stand out: the loss of a father and a cancer diagnosis. These are life-changing events that had to inform this record – for better or worse. And to these trained, professional ears (that's right!) it is all for the better.
For those new to Frog Eyes Mercer's vocals can be a deal-killer. It is, to say the least, an acquired taste. He yelps and strains his voice to coax out the maximum amount of expression. It goes from baritone cool to warbling madman at the drop of a hat. Regardless of those nagging tics his work through five Frog Eyes full-lengths, three Blackout Beach albums and two with Spencer Krug (Wolf Parade) and Dan Bejar (Destroyer) in indie supergroup Swan Lake has been routinely stellar. His abstract words have always bounced off similarly strange music. And Carey's Cold Spring is in many ways more of the same. There are, however, some significant changes. Melanie Campbell has been replaced on drums by Matt Skillings. He brings a much more rock feel to the songs. Also these nine songs represent the most traditional set Mercer has released under any name.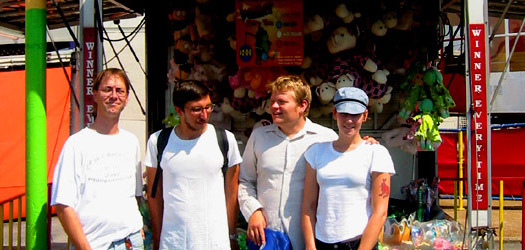 The album starts with a song about a girl named Judith – the same way his last album, Paul's Tomb, did. "The Road Is Long" is a more subdued opener than "A Flower In A Glove" was though. It's probably a hopeless cause trying to figure out what he's talking about: "And Judith is sad, she has broken her bowl in a fight/And meddled with the sea so the moon's full of hatred and spite." Okay. "The Country Child" sports a pleasing melody while Mercer sings about, hell I don't know. Sample: " Autumn's faction bursts into the Hyatt and demands a sum/The golden statue puzzles and attempts one awkward pun." This is just terrific writing. I could mean whatever the listener wants it to mean. The next song, "Your Holiday Treat," sounds like Xiu Xiu doing Bryan Ferry. Or vice versa.
There's a lot to take in here, but special attention must be given to the closing track, "Claxxon's Lament." An old Blackout Beach song that was rerecorded for this album as it was, according to the Frog Eyes Bandcamp page, played by Mrecer for his dad on his deathbed – apparently the last song he ever heard before meeting his maker. So when the lyric "nobody shall die" shows up it has real force. Besides being a really good song, the emotional impact is far greater than anything found on previous Frog Eyes records. Though somewhat less frenzied than earlier albums, Carey's Cold Spring works as a cohesive whole, without being a concept album. It is, in fact, a triumph of the human spirit. A kind of spitting in the face of death – not a catharsis at all. Rather, a twisted battle cry and an acceptance that it's better above ground. Get well, Carey! The world is brighter with your songs in it.
Key Tracks: "Claxxon's Lament", "The Road Is Long", "The Country Child"
Artists With Similar Fire: Wolf Parade / Xiu Xiu / Wild Beasts

Frog Eyes Bandcamp
Frog Eyes Facebook

-Reviewed by Scot Lade
Latest posts by Scot Lade
(see all)