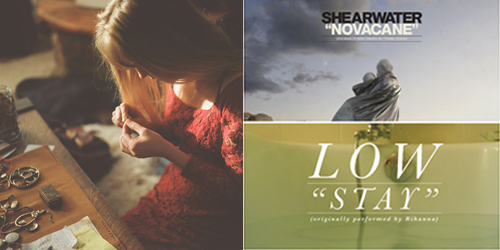 Sub Pop has just announced their Record Store Day's Black Friday releases.
On November 29th, Sub Pop will release two limited-edition Black Friday exclusives: Josh Tillman's (aka Father John Misty) score to the forthcoming short film The History of Caves, and a split 7" featuring Low's popular rendition of Rihanna's megahit "Stay" and Shearwater's take on Frank Ocean's "Novacane."
The History of Caves is the directorial debut of photographer and filmmaker Emma Elizabeth Tillman, and it will premiere later this year on Netflix, Amazon, and iTunes. Josh Tillman's haunting, spare instrumental score spans 10 tracks, all of which are featured on this limited-edition LP. The album is limited to 2,000 copies.
Labelmates Low and Shearwater each contribute arguably-improbable covers of popular songs for their 7" split single. After performing a crowd-favorite live version of Rihanna's "Stay" at the Pitchfork Music Festival this past July, Low recorded a studio version at Sacred Heart in Duluth, MN. Shearwater recorded their own gauze-wrapped, undulating version of Frank Ocean's "Novacane" for this single. The 7" is limited to 3,500 copies. Low's proceeds will benefit Rock for Kids, while Shearwater's will benefit the Southern Poverty Law Center.
Both releases will also be available digitally.
Latest posts by Christopher Anthony
(see all)