Delorean


Apar
True Panther Sounds [2013]



Fire Note Says: This Delorean is a fresh modern sound – no time travel is necessary to enjoy it.
Album Review: Delorean is a synth-pop band from Spain. And yes, they admit to being named for the vehicle from Back To The Future. Now that that's out of the way, about the band: Originally from the Basque country, Delorean is now based out of Barcelona. Apar (Basque for "froth") is their fourth studio album, their second since shifting to an synthesizer pop band from a punk sound. The band consists of Guillermo Astrain (guitar), Igor Escudero (drums), Unai Lazcano (keyboard), and Ekhi Lopetegi (vocals and bass).
The band toured for a while with Swedish acts jj and Miike Snow – Delorean's sound is reminiscent of those artists. I also heard more of an emphasis on synthesizers and keyboards on this album, as compared to their last release Subiza. This change in style reminded me of another western European act: M83. While not a replica of Anthony Gonzalez's group, if you like M83 you will like Delorean.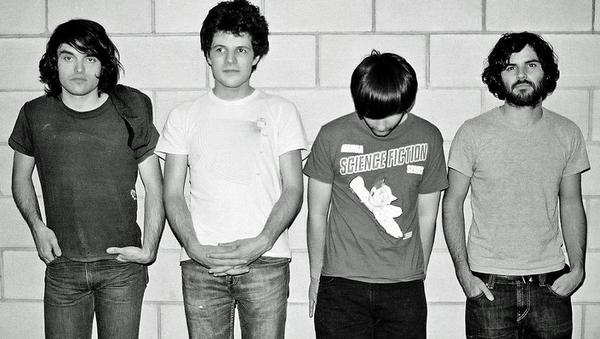 Stylistically much of Apar adheres to a heavy mix of synth, guitar, and drums. The beat is uptempo and the vocals blend in well with the music, never stealing the show. "Walk High" is the track that most exemplifies this style and also maintains a dreamy feel. This track represents the bulk of the album well. One of my favorite songs stands out due a guest vocalist (Caroline Polachek of Chairlift). Her voice complements the electronic sizzle of Delorean – the match here is made in heaven. She doesn't as much sing as she lets her voice flutter and rise above the music.
One of the strengths of M83 is their ability to mix atmospheric with danceable energy. Delorean brings that energy but lacks the chops to pull off something as grandiose as "Intro." For that reason the album runs together – picking out a single song that exemplifies is difficult. "Keep Up" stands out as a contrast to that sameness. I'd like to see Delorean play with that sound in the future to see if they can effectively change speeds. That being said Apar is a worthwhile listen that breezes by but lacks the pop to make it a must-listen.
Key Tracks: "Unhold," "Keep Up," "Walk High"
Artists With Similar Fire: M83 / jj / Miike Snow
Delorean Website
Delorean Facebook
True Panther Sounds
-Reviewed by Matthew Heiner
Latest posts by Matthew Heiner
(see all)