Radkey


Devil Fruit EP
Little Man Records [2013]



Fire Note Says: Radkey's Devil Fruit EP shows promise for the future.
Album Review: Radkey is a three-piece punk band from St. Joseph, Missouri. They are three brothers (Dee, Isaiah, and Solomon) who play well together. This in and of itself is quite the accomplishment, as parents of boys can attest to. Dee Radke plays guitar and handles some vocal duties, Isaiah is the bassist and also contributes vocals, and Solomon drums. Devil Fruit is their second official EP after Cat and Mouse, released earlier this year.
"Romance Dawn" starts the 4-track EP with a rush. A steady drum beat provides the foundation for the first minute of the song. Dee's voice is deep and excels when he's doing his punk bellow. The first time I heard the song my head nodded to the beat of that opening minute, but then Radkey takes a seemingly fast-enough track and then hits the nitro. I might have let out an expletive while wearing a huge grin at that exact point in time. That reckless abandon typifies Devil Fruit.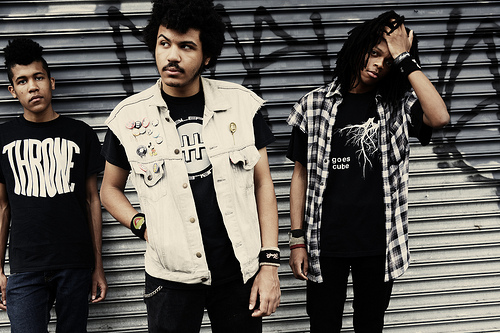 While the three remaining tracks don't live up to the spectacular "Romance Dawn" they are solid in their own right. Radkey plays with a tightness and vision that's easy to identify and is executed well. Lyrics don't reveal hidden truths but nor are they inane. Over four tracks and some 14 minutes, that acceleration and balls to the wall mentality hold well. I'm excited to hear an LP and discover what other tricks Radkey has up their sleeve.
Key Tracks: "Romance Dawn," "Overwhelmed"
Artists With Similar Fire: Black Flag / The Ramones / Misfits

Radkey Website
Radkey Facebook
-Reviewed by Matthew Heiner
Latest posts by Matthew Heiner
(see all)