Polvo


Siberia
Merge Records [2013]



Fire Note Says: Chapel Hill band release their second excellent post-reunion album.
Album Review: When Polvo returned in 2009 they were way ahead of the pack. Little did we know that pretty much every 90's indie band of consequence would reform, tour and attempt to recapture the magic of an era long since gone. Some of these reunions have been stellar (GbV, Sebadoh) and others not so much (apologies to The Dismemberment Plan.) What went almost unnoticed was just how good their comeback LP, In Prism, actually was. Four years later and still reunited with with North Carolina powerhouse indie label Merge (who put out their first two albums) Polvo is back with Siberia – an album of weird beauty and dexterious muscle.
Ash Bowie and his mates were never an easy band to categorize. Nor were they an easy listen. Dissonent, knotty guitars full of Eastern scales and pitch bendings – they had few peers. At their best (1993's Today's Active Lifestyles) they could mesmerize, confuse and create one hell of a racket. Later, their two records for Touch And Go found the band expanding their buzz saw sound into classic rock and psych folk with decreasing results. The fact that no one was clamoring for a Polvo reunion in no way diminishes the impact they have had or the quality of their music. In fact, the relative lack of expectations made In Prism so compelling. And so it is with Siberia.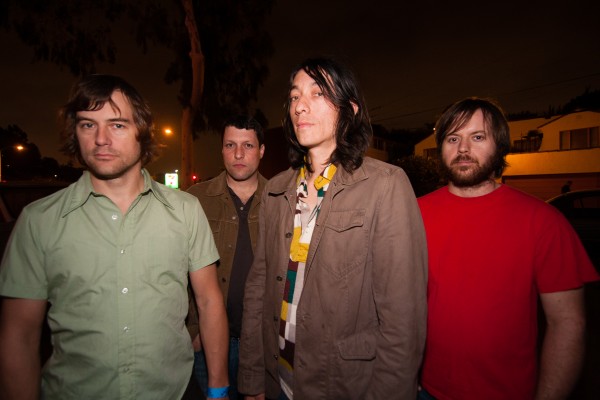 The record begins with a typical Polvo riff and "Total Immersion" proves to be a great lead-off track an as its name implies, it is difficult not to become instantly hooked on this complex brand of noise rock. Bowie's vocals are more prominent this time around though the lyrics no less impenatrable. It's a spiritual cousin to classic Polvo songs like "Tragic Carpet Ride" that got me into them in the first place. It's dark and dense but it rocks. "Blues Is Loss" shows how confident they have become in melding diverse styles and the trademark shape-shifting is kept at bay long enough for the track to have an almost Kraut-rock pulse. With "Light, Raking" they blend FM rock with their love of Asian-flavored melodies until the band Asia makes an appearance with some 80's synths (not really, but whatever.)
The strongest track is "The Water Wheel" which encapsulates everything terrific about Polvo in its eight minutes. Killer guitar playing, a penchant for psuedo-prog structure, stuttering rhythms and a backbone of early SST. Polvo always acted as a kind of bridge between the brawny world of post-punk and the high-mindedness of art rock (hell, these guys did meet while attending the University of North Carolina.) All eight songs are unique and they are all pretty great. You've got a little alt-folk ("Ancient Grains") and a little Arena rock ("Changed") but most of all you've got here in front of you is a bona fide great band with another really, really good album under their belts that deserves a bigger audience. They always have. Long live Polvo!
Key Tracks: "Total Immersion", "Blues Is Loss", "The Water Wheel"
Artists With Similar Fire: Brainiac / Superchunk / Lightning Bolt

Polvo Website
Polvo Facebook
Merge Website
-Reviewed by Scot Lade
Latest posts by Scot Lade
(see all)