The Dismemberment Plan


Uncanney Valley
Partisan Records [2013]



Fire Note Says: The Dismemberment Plan recaptures some of that old magic on their first album in 12 years.
Album Review: The Dismemberment Plan hasn't put out a record in 12 years, which is an eternity in the indie rock world. What made the break even harder to take for fans was that they were coming off of two back to back great lps, Change and Emergency & I, both now considered eclectic emo classics. The band never fit neatly into the emo pigeonhole as they often dabbled in dance music and rap, but always kept one foot in the rock world while they went on their sonic explorations. Their new album, Uncanney Valley, is easily one of the more hotly anticipated indie releases of the fall. I think all music fans wondered if they would pick up where they left off, or perhaps go back to their earlier edgier sound, or would they go someplace entirely new? The answer is a little of this and a little of that, and unfortunately that can make listening to Uncanney Valley a challenge.
The first two tracks on the record are such incredible misfires to my ears, that a. I can't believe they lead off the album, and b. I almost turned the record off. "No One's Saying Nothing" and "Waiting" are the kind of bad rap that you might hear at open mic night where the band thinks they are incredibly awesome for rapping to dance influenced indie rock. It's bad, both songs are what I like to refer to as instant needle lifters. However, there is good news, the record starts to get over the hump with "Invisible" a pretty strong track that harkens back to the salad days of Change. "White Collar White Trash" also keeps the momentum going, there's some interesting things going on in the background musically during the choruses for sure. "Living in Song" starts out like it's going to be a harmless little electro dance track before the guitars kick in, this is the kind of genre hopping that the band is good at. The second half of Uncanney Valley is much stronger than the first. "Go and Get It" has that fist pumping quality that I'm a sucker for, and as always, I love the shout along chorus. "Let's Just Go To The Dogs Tonight" is an absolutely ridiculous song. It shouldn't work, from the disco beats to the sugary sweet lyrics, but it definitely does. I find myself singing this one quite a bit.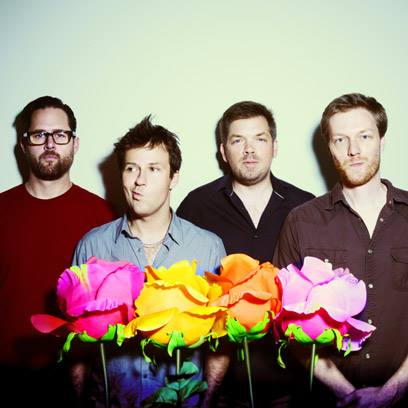 Ultimately, Uncanney Valley isn't the comeback record that I think we were all hoping for. I suppose it's unreasonable to expect the band to be able to pick up right where they left off and drop another 4 star record on us after such a long layoff. If it wasn't for the first two songs on the record, I would probably bump the score up to a 3 ½, but please give the record a listen and decide for yourself. Maybe now that they have the first record out of the way, a second record will up the ante a bit.
Key Tracks: "Invisible", "Living in Song", "Let's Just Go To The Dogs Tonight"
Artists With Similar Fire: Jawbox / Pinback / Death Cab For Cutie

The Dismemberment Plan Website
The Dismemberment Plan Facebook
Partisan Records
– Reviewed by Kevin Poindexter
Latest posts by Kevin Poindexter
(see all)