FUZZ


"Sunderberry Dream" b/w "21st Century Schizoid Man"
In The Red Records [2013]


FUZZ's debut (TFN Review) was a fall release that we were highly anticipating for some time. FUZZ features the crazy productive Ty Segall on vocals and drums. This of course is rounded out by his heavy rock buddies Charlie Moothart (guitar/vocals) and Roland Cosio (bass). This 7-inch was released simultaneously with their debut and features two non-album tracks. It also represents their third single.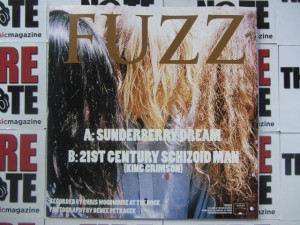 The A-side, "Sunderberry Dream," is another grinding psychedelic rock song that is absolutely stellar. I can't imagine why it is not on the album but makes this 7-inch even more essential. The B-Side is a cover of King Crimson's "21st Century Schizoid Man." FUZZ takes this over seven minute track and scales it down to under three. They of course do this without a saxophone and add in heavier riffs and guitar muscle that turns out to be a great reinterpretation. It really does still capture the progressive rock vibe of King Crimson while creating something fresh. Another interesting thing here is that on the record itself the song is titled "20th Century Schizoid Man," but the jacket listing is correct.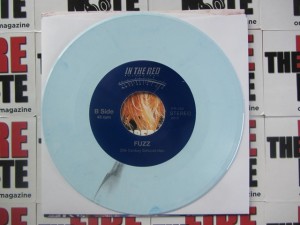 The jacket is a normal cardboard cover with art on the front and back. The 7-Inch is limited to 200 copies on light blue vinyl and spun at 45 rpm. This copy has a bit of swirl and a black streak in it. The color 7-inch is sold out so if you want a copy you will need to visit the second hand markets

In The Red Records
-Feature by Christopher Anthony
Latest posts by Christopher Anthony
(see all)