Elf Power


Sunlight On The Moon
Darla/Orange Twin Records [2013]



Fire Note Says: A wonderful collection of psych pop gems that have the unmistakable Elephant 6 sound.
Album Review: If you're anything like me, you have to be pretty excited that there is a new Elf Power record out. I obsessively collected all things Elephant 6, and honestly feel like Elf Power's A Dream in Sound is probably the 4th best album to come out of that whole movement, behind a couple Olivia Tremor Control albums, and of course In the Aeroplane Over the Sea, which was a recent TFN revisited album review. For whatever reason, I don't know if Elf Power were ever considered upper tier Elephant 6 by the majority of music fans, but I always felt they were right up there with Neutral Milk Hotel, the Olivias and Apples in Stereo.
Sunlight on the Moon, finds a more mature Elf Power, led by the longtime creative forces of Andrew Reiger and Laura Carter, and also featuring James Huggins and Peter Alvanos, working their way through a set of psychedelic songs that invoke a feeling of loneliness or isolation. As the title of the record would imply, this is music for a walk on the moon. It's interesting that the band worked on these songs in a variety of different studios, including Reiger's home studio, as the record definitely has a certain mid-fi charm. There is also the felling of spontaneity in the music, as much of it was recorded as it was written, with no rehearsals. It gives Sunlight on the Moon an unlabored over feeling, a fresh feeling, almost like you are in the same room at the time inspiration struck.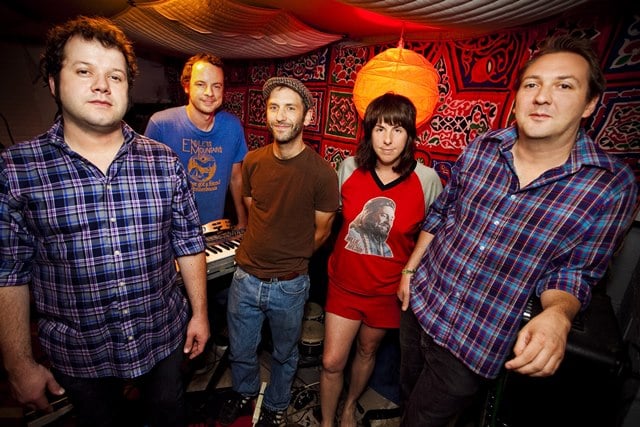 Songs like "Manifestations" and "Total Annihilation" are built on the gorgeous vocals of Reiger and his guitar, but it's the use of the fuzz bass that provides the just enough of a layer of distortion to give it an added warmth. It's like being wrapped in a warm blanket on a crisp fall morning. The title track provides one of the best up-tempo moments on the record, and it has that classic Elephant 6 psych pop sound. "Things Lost" is another standout on the album, it's a gentle acoustic number, with an incredible vocal melody. The keyboard augmentation really helps to push this one over the top as well. If I had to pick my favorite track on the record, "Things Lost" would be the pick for sure.
If you haven't been following Elf Power for the past decade or so, Sunlight on the Moon is a great reentry point and a great starting point for potential new fans. The band has really been doing some great things since Walking with the Beggar Boys, but has really flown under the radar for quite some time now. I know Beggar Boys got a few less than enthusiastic reviews from some big websites, but it's a solid record in my opinion. Get Sunlight on the Moon, then go back and investigate records like In a Cave, or Dark Developments (their collaboration with Vic Chestnut). I think you will be pleasantly surprised. The band will be opening for Neutral Milk Hotel on their upcoming fall tour so get there early to see them!
Key Tracks: "Things Lost", "Sunlight on the Moon", "Total Annihilation"
Artists With Similar Fire: Neutral Milk Hotel / Olivia Tremor Control / Of Montreal

Elf Power Website
Elf Power Facebook
Orange Twin Records
– Reviewed by Kevin Poindexter
Latest posts by Kevin Poindexter
(see all)