The Midpoint Music Festival wrapped up on Saturday after a great three days of music played through the Cincinnati streets with around 170 local, regional, national and international musical acts participating. The weather was great, the crowd turned out and the artists all shined. The tough part about Midpoint was trying to decide which stage to check out with so many quality acts playing around the same time. With that said, The Fire Note did our best and enjoyed the music we did get to see! Below is a recap of Friday and Saturday at the Midpoint Music Festival.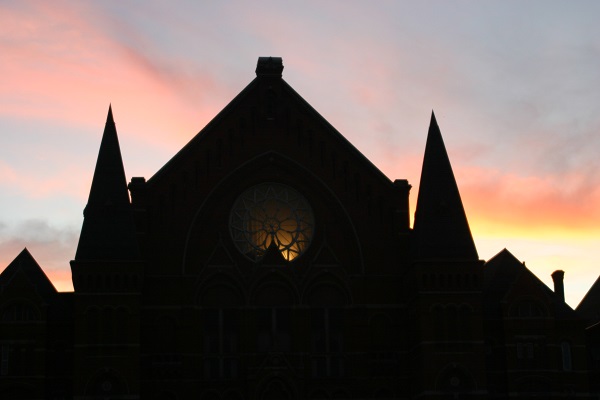 Friday was a tough night for TFN. The Reds playoff game and later start times created a traffic nightmare getting into the downtown festival. This cancelled any chance of catching a few earlier bands and we needed up walking in during Youth Lagoon's set at the main stage in Washington Park. I will say that main man Trevor Powers had the crowd in awe as the big explosive tracks from his latest record, Wondrous Bughouse (TFN Review), filled the stratosphere with keyboards and spectacular walls of sound. This of course was then balanced with his vocals sprinkled throughout the songs. I wish we could have seen the entire set but the 20 minutes we did see was worth every minute.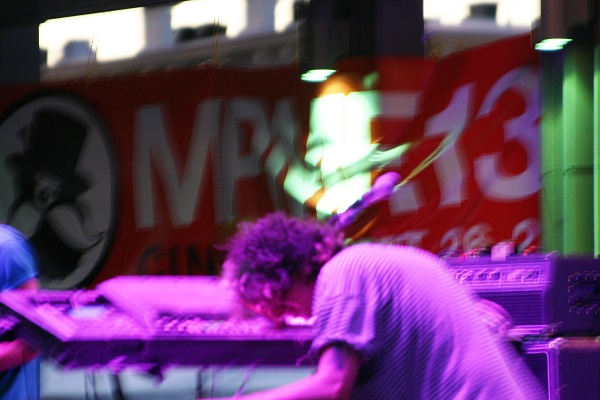 Next up Friday on the main stage was Seattle's Head And The Heart. The band's new record, Let's Be Still, is due out on Sub Pop October 15 so there was definitely anticipation to hear the new material. The band took the stage and like their music, their presence was very inviting and laid back. The working chemistry between the bands three singers, Jonathan Russell, Josiah Johnson and Charity Rose Thielen give the group a unique sound that works very well on stage. You can tell immediately that they enjoy performing and the crowd appreciated back with singing and cheering. Especially on their hit "Lost In My Mind" and "Down In The Valley." As expected, the band also offered up several songs from their new album which was great to hear. The new songs seem to move away from some of their earlier folk-pop tracks into a warm 70's type of Fleetwood Mac zone which works really well for this talented bunch. With the large crowd and what seems like a solid new record on the way, The Head And The Heart may be ready for an even bigger spotlight in 2014. If that prediction does come true I am glad we were able to catch them on the front end of larger success.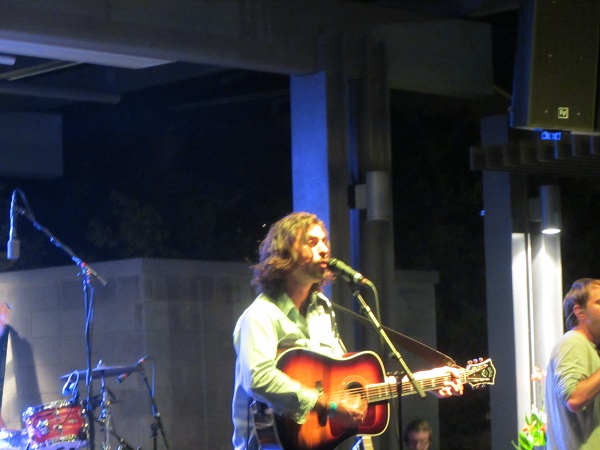 Other bands that night that received rave Fire Note reviews were Cincinnati's own The Tigerlilies at the MOTR Pub and Akron's Shivering Timbers which just made our September Bandcamp feature. Due to several conflicts we didn't make it to see Secret Colours, Warpaint, Caveman or Kishi Bashi but heard nothing but good things about these acts. All in all it was still a great Friday night of music at Midpoint!
-Day 2 feature by Christopher Anthony



I must first say that being a part of The Fire Note is a great experience. That only seemed to add and fuel the amazing fire that was Midpoint Music Festival's third day on Saturday. The last day of the festival brought an Ohio cocktail of Tweens, Wussy, and The Breeders on the main stage plus METZ and Black Rebel Motorcycle Club tearing it up on the Grammer's stage.
Getting there I had no idea what to expect. I had attended MPMF two years ago and succumbed to feelings of disorganization and frantic moods. I am not sure if that was my fault or not but, as soon as we arrived to the sunny Washington Park-Main Stage all those past feelings were dashed with great music, great weather, and a great spot to enjoy the spectacle.
I have to admit, I was disappointed when we rolled up to Cincinnati's own Tweens. I immediately wondered where all the people had gone? I mean of course there are many different acts spread among many different venues but, The Fire Note was right, The Tweens were an act to see. Since first seeing them open for The Breeders at the Southgate House way back in March a lot of changes have happened. They've signed to Frenchkiss Records, their paying and confidence has strengthened, and they're going to be something big. I couldn't even pick up one of their demos because they had all sold out. Highlights from the doo-woopy, candy coated punks included the choral guitar drenched musing of "Be Mean" and a frantically fantastic "Rattle & Rollin'"-think 60's bubblegum riot grrrl with and early Karen O fronting or a malt shop that serves piss and vinegar. It has us excited for their forthcoming full length LP.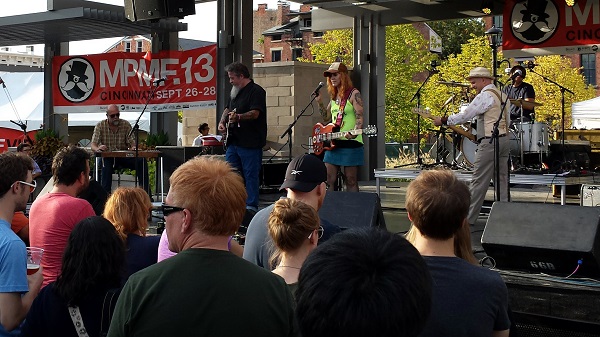 Next the Cincy festivities kept on rolling with another local act Wussy. They stepped in last second to replace Foxygen which had to pull out due to an injury to frontman Sam France. I am not very familiar with Wussy but that didn't stop me from enjoying the wide open sound antics of Lisa Walker, Cuck Cleaver (Ass Ponys) and bassist Mark Messerly. Jokes abound including a gem referring to Wussy as the meat between the Tweens/Breeders sandwich they were a perfect fit. I always appreciate when an artist takes on a cover song and Wussy did just that by playing a Curtis Mayfield song which surprised and added to an already pleasant evening. It defiantly urged me to get into Wussy.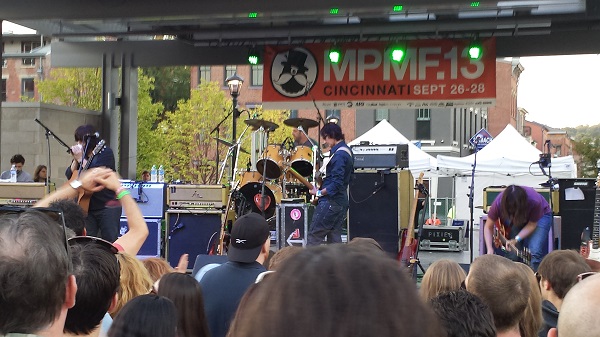 Even veteran rockers can improve and nothing proved that like The Breeders set celebrating the 20th anniversary of the ramshackle classic Last Splash. Their tour warm up Southgate Set last March was a self-esteem booster, an exercise in team building, and a return to form. Saturday's set was joy, confidence, and the strange brand of antics that only The Breeders could provide. Kim's modest crowd banter carried the evening just fine, Jim's drumming was invigorating, unrelenting, and just as joyful as the first day he slapped the skins for The Killjoys. Jo, usually looks stern and focused gave a heartfelt reach out to the crowd by acknowledging an honorary home tie to Dayton/Cincinnati and Kelley came through with flying colors filling in her guitar duties as needed.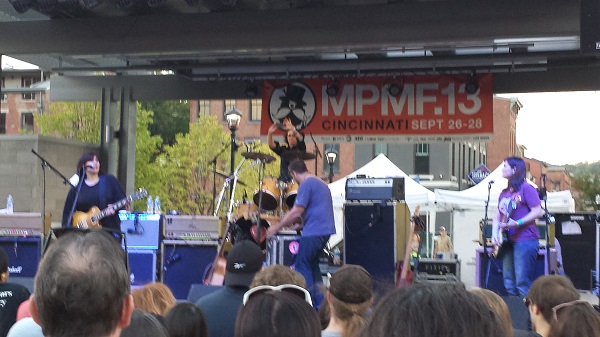 Highlights included: a sound checked "Shocker In Gloomtown"; the always explosive and crowd pleasing "Cannonball"; "Roi" hitting just as hard as ever with Kelley's guitar assault and the Deal echoed "Divine Hammer." The Breeders proved that they still have more to give at this show so hopefully they will keep going. The Fire Note is keeping our fingers crossed.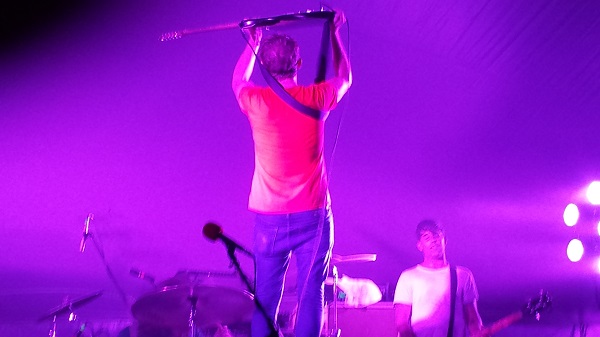 After catching up with Dayton's Grenades?! and Dear Fawn (these two bands will have their place in Dayton music history in due time) there was time to have my mind blown by METZ at the Grammer's Stage. I have to admit that we rolled up with only three songs left to go but, for my time there it was definitely one of my Midpoint highlights. Sub Pop's Canadian noise rocker trio were a sight to behold, ripping through "The Mule" and final song "Wet Blanket" whipped everyone -including me- into a frenzy that couldn't be avoided. Get acquainted with METZ, they happen to be my festival regret. I regret not being able to catch their entire set and if you have the pleasure to see them I recommend it.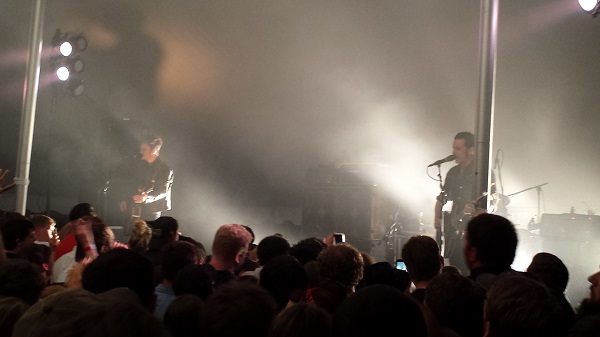 Finally rounding out the evening was LA's Black Rebel Motorcycle Club. Exhausted by our long day, Black Rebel Motorcycle Club took the stage and urged us to stay captivated by their shoegaze, rock, and blues – think a Louisiana bayou Muse. "Beat The Devils Tattoo", "Returning", "Screaming Gun", and "Lullaby" all made fantastic showcases and turned me into a fan. Those songs showcased some poppy, bluesy, and dreamy talents' but Black Rebel Motorcycle Club also know how to rock. Songs like "Rival", "Conscience Killer", and "Six Barrel Shotgun" ripped the speaker cones apart.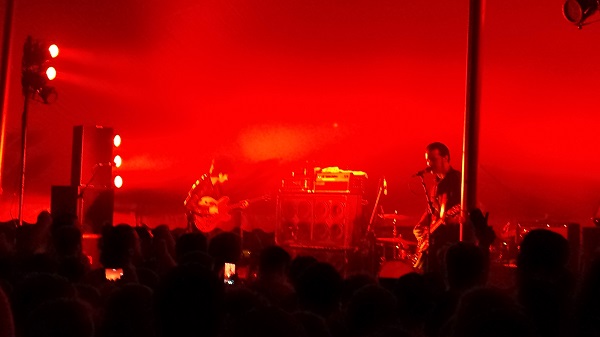 The Fire Note was nothing but pleased by this year's Midpoint Music Festival 2013. This festival brought success for artists, venues, and the organization. I cannot wait to see how Midpoint grows over the years because things like this can only get better with time!
-Day 3 feature by Christopher Tahy
Latest posts by Fire Note Staff
(see all)