Neutral Milk Hotel


In The Aeroplane Over The Sea
Merge Records

Released: February 10, 1998
Producer: Robert Schneider
Length: 39:55
It's really hard not to bring up the Elephant 6 Music collective without one name and band coming to mind: Jeff Mangum/Neutral Milk Hotel. While many brilliant and underappreciated artists (Elf Power, The Olivia Tremor Control, Apples In Stereo, etc.) spilled out of the collective, it's truly Mangum, Neutral Milk Hotel, and their February '98 album In The Aeroplane Over The Sea that made the bizarre collective come a bit closer to the mainstream.
Now I have to admit that I wasn't privy to Neutral Milk Hotel until much later after that album's release—in fact, I remember being scolded for not knowing about the twisted troubadours. But finally listening to In The Aeroplane Over The Sea emulates the feeling of finding money that you didn't know you had (a great feeling, of course). In The Aeroplane Over The Sea is a conceptual invitation into an entire world. Fans have speculated that the album takes ideas and influences from the life and death of Anne Frank, and there could be truth to that: Mangum has said that the album's motivations and themes come from "urgent, reoccurring dreams that [he] had of an European family during the 1940s."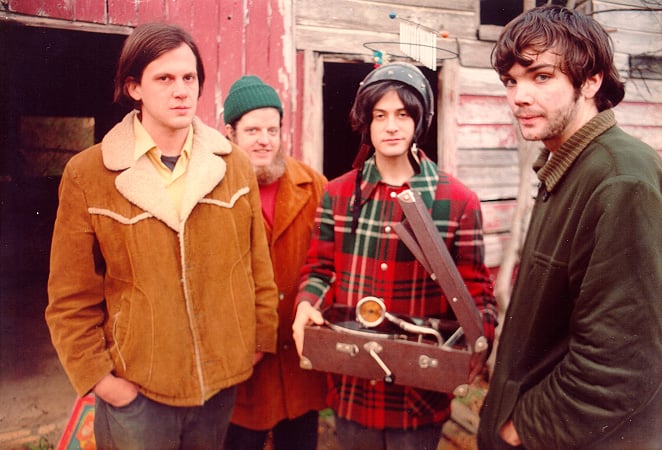 The magic of In The Aeroplane Over The Sea is that as weird as it is, it seems very personal. Through lyrics, musical notes, and themes, Mangum and Co. are playing for you. This is made immediately apparent by the inviting guitars, the thoughtful accordion, and friendly brass. "The King of Carrot Flowers Pts. Two & Three" couldn't be a more perfect ramp up with its driving fuzz, UFO-like takeoff noises, and the weird bond you form with the singer shouting out "I love you Jesus Christ"—it's quite invigorating. Then there are the classics like the title track or "Two-Headed Boy," but what is also important about the album is its ability to shift through different emotions. "Oh Comely," in my humble opinion, presents one of the album's best and deepest tracks, and what makes it even more powerful is the forceful upswing. Feeding right into the track "Ghost," it takes the listener on one last trip full of energy to prepare for the inevitable ending.
In The Aeroplane Over The Sea is going to be an album that only gets better with age. Nobody makes albums like this anymore, try and try as other musicians might. Neutral Milk Hotel seemed to crack the enigmatic code with equal parts simplicity, grandeur, oddity, religion, history, and art. In The Aeroplane Over The Sea is a true classic and something all music fans need to experience.
Deep Cuts: "The King Of Carrot Flowers Pts. Two & Three", "Oh Comely", "Ghost"
Artists Influenced by Neutral Milk Hotel: The Decemberists / Arcade Fire / Beirut
Interesting Fact: Mangum is one of indie music's most enigmatic recluses. After releasing In The Aeroplane Over The Sea Mangum effectively walked away from music and avoids his fame as much as possible… Until now
What is Neutral Milk Hotel up to now: Mangum, after a few solo appearances in 2011, finally announced a west coast tour at the beginning of 2012. After many solo shows it finally happened: on April 29, 2013, Neutral Milk Hotel announced a fall reunion tour with the original In The Aeroplane Over The Sea line-up. I doubt we'll see any new material from these twisted geniuses, but who knows – we can only hope!
Neutral Milk Hotel Website
-Feature by Christopher Tahy
Latest posts by Christopher Tahy
(see all)