The Dirtbombs


Ooey Gooey Chewy Ka-Blooey!
In The Red Records [2013]



Fire Note Says: Next stop for The Dirtbombs – Bubblegum rock.
Album Review: If you have been following The Dirtbombs since their excellent grooving 2001 soul album, Ultraglide In Black, then you know the band has never been content just staying in one genre for long. This constant movement found them diving deeper into the garage with Dangerous Magical Noise (2003) and more recently creating an album in the spirit of German techno with Party Store (2011). So, when band leader Mick Collins talked several years ago about recording a bubblegum record you should of believed him as Ooey Gooey Chewy Ka-Blooey! is the proof.
The opening track "Sugar On Top" is sweet by the title but is a good example of what Ooey Gooey holds for you as Collins and the band harmonizes the repetitive line "baby's got the love with the sugar on top" with a quick little drum beat, a bouncy guitar riff and even a little cow bell! This song is fun but not corny and is a perfect 2:33 slice of edgy pop. This track sets you up for the rolling "Crazy For You" that screams hit single of the past with its upbeat lyrics, sing-along chorus and shoulder moving groove that won me over in seconds.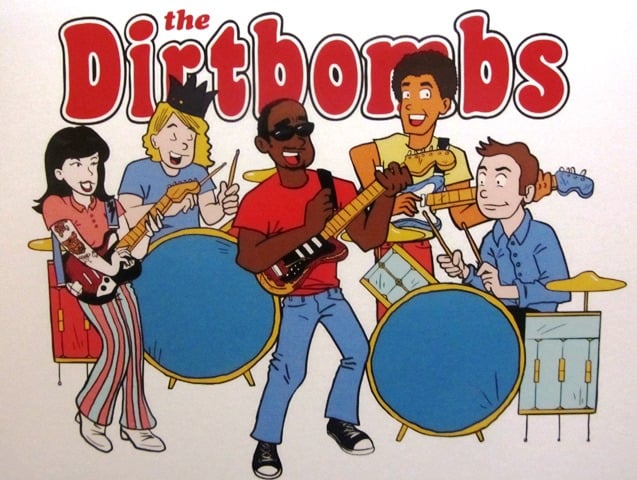 Like many of TFN readers, I was not around for the Bubblegum era of the late 60's to early 70's. Much like the fictional groups, The Archies and The Partridge Family most of the acts in this genre were often hired session musicians that played and sang songs under fake band names. This generated tons of one-hit wonders and also helped kill Bubblegum in about 5 years. With that sort of history, Ooey Gooey should suck. It really is a gimmick that should not even be attempted. Well of course that was just my opinion because The Dirtbombs pull it off. Sure, it is not their best record but it is a solid 30 minute listen right down to the closing track, "We Come In The Sunshine" that borrows a little music line from the Beach Boys "Good Vibrations" but has a slightly out of tune chorus which is complemented by horns a blaring. This off kilter finish is a satisfying ending to the ray of pleasant pop goo that flows from Ooey Gooey Chewy Ka-Blooey!. Now we can't wait to hear what The Dirtbombs have in store for us next!
Key Tracks: "Sunshine Girl", "Crazy For You", "We Come In The Sunshine"
Artists With Similar Fire: The Archies / Tommy James & The Shondells / The Turtles

The Dirtbombs Website
The Dirtbombs Facebook
In The Red Records
– Reviewed by Christopher Anthony
Latest posts by Christopher Anthony
(see all)