Obits


Bed & Bugs
Sub Pop Records [2013]



Fire Note Says: Bed & Bugs is the sound of Rock and Roll lifers kicking out garage rock jams.
Album Review: It's hard to talk about the new Obits album, Bed & Bugs, without first mentioning that Rick Froberg (vocs/gtr) was a member of two all-time great bands, Drive Like Jehu and Hot Snakes. If those bands mean anything at all to you, you know what you are in for with Bed & Bugs. Think loud and jagged guitars, driving rhythms, snarled vocals, and a dirty garage with the roof half caved in. Throw in a splash of surf music and add a dose of psych, and you have Obits, now on their third lp and probably the best of the three.
Froberg's voice is instantly recognizable and is the lifeblood that has flowed through all of his musical projects, unifying them despite their differences in personnel and stylistic approaches. When he isn't screaming, he sounds like he isn't far from it, and he always sounds like he has a bag of marbles in his mouth. Its equal parts Axl Rose and Paul Westerberg, if you think there aren't some similarities between those two, well just ask Tommy Stinson, he'll tell ya, but I digress. His voice is his calling card, but it's his guitar work that makes him unique. Fellow Obits guitarist, Sohrab Habbion is every bit his equal, and the two push each other to Television-esque heights of guitar interplay. "Taste the Diff" starts with an evil devil may care laugh before the guitars come roaring in. This is garage rock as played by guys who have the experience to match their angst. The fury with which they play is the sound of rock and roll lifers, not your new flavor of the month. "Spun Out" shows off the surf influence of the band, it's like if Dick Dale and link Wray kicked Jack White's ass and took over Third Man. "Besetchet" is the oddest track on the record, it's a psychedelic surf instrumental. It's a cool song, but it doesn't quite fit the album. "Operation Bikini" sounds like a long lost Radio Birdman track. MORE OF THIS PLEASE, THANKS!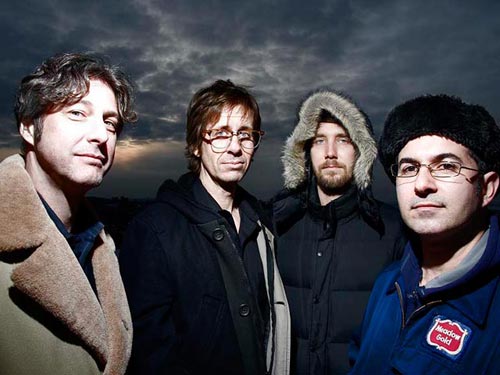 The whole record is really good, it sits in that uncomfortable spot right between a 3 ½ and 4 review for me. I just couldn't quite pull the trigger on the 4. It was really close though. I wasn't sure what to expect from this one, and I was really surprised, surprised enough to go out and download their 2nd album, which I intend to start listening to as soon as I wrap up this review. Check Bed & Bugs out, garage rock fans will definitely dig it.
Key Tracks: "Taste the Diff", "Operation Bikini", "Spun Out"
Artists With Similar Fire: Radio Birdman / Black Lips / Drive Like Jehu

Obits Website
Obits Facebook
Sub Pop Records
– Reviewed by Kevin Poindexter
Latest posts by Kevin Poindexter
(see all)