MGMT


MGMT
Columbia Records [2013]



Fire Note Says: MGMT fails to electrify with their self-titled third album.
Album Review: MGMT has released their third album, which is quite simply titled MGMT. The band's debut had such singles as "Electric Feel," "Kids," and "Time to Pretend." It is safe to say that there is no such track to be found on this album, and those of us (I include myself) looking or hoping for this type of music will be disappointed. This is an electronic album heavy on the psychedelia. If you were to approach this album with no prior knowledge of MGMT the album may work better. However, knowing the band's catalog it's difficult to accept the direction MGMT has taken.
That direction is playing the type of music that Benjamin Goldwasser and Andrew VanWyngarden enjoy. That sound is less informed by The Strokes than by Pink Floyd or The Flaming Lips. MGMT doesn't live up to the standards of those last two bands. "Alien Days" starts the album with a monologue backed by starry keyboards. A nice beat kicks in one minute into the song and carries it for the next four minutes. Vocals meander throughout with little purpose or sense – I made it a point to try not to decipher what was going on. I think MGMT would want it that way.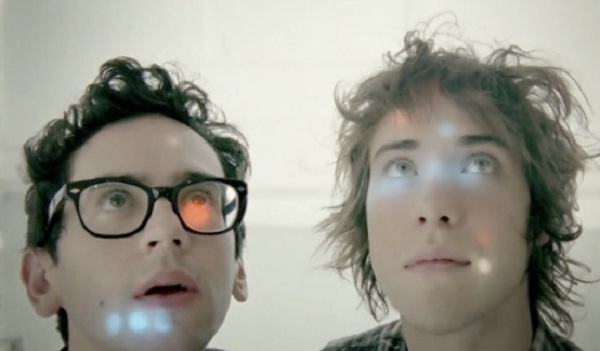 For the most part MGMT plays with the same pace and riffs throughout. There is a two-track run that stands out: "Mystery Disease" and "Introspection." "Mystery Disease" has parts that work together to make a cohesive whole. It's the most fully-formed song on the album and represents what MGMT can do with the electronic/psychedelic sound they're using. "Introspection" has a bit of pep to it (just a little) that is as light as the album gets.
MGMT has committed to their sound at the expense of those of us who enjoyed their first two outings. The more I listened to MGMT the more I accepted the album for what it was, rather than resenting it for what it was not. That's not to say that this is the pinnacle of electronica or psychedelia – far from it. I hope this is a stepping stone towards a more fleshed-out future sound, but until then MGMT could benefit from some fun or lightheartedness.
Key Tracks: "Mystery Disease", "Alien Days", "Introspection"
Artists With Similar Fire: Tame Impala / Deerhunter / The Flaming Lips

MGMT Website
MGMT Facebook
Columbia Records
-Reviewed by Matthew Heiner
Latest posts by Matthew Heiner
(see all)