Jews And Catholics


Civilized
Self-Released [2013]



Fire Note Says: If you're looking for something new, Jews and Catholics can catch you by surprise with Civilized.
Album Review: I find it fitting here to start this review off with a religious analogy. Jews and Catholics have their many differences as well as certain similarities. The same could be said about this trio from Winston Salem – Jews and Catholics. With their third full length, Civilized, Eddie Garcia, Alanna Meltzer, and Tyler Reed combine the juxtaposing forces of crunchy, jagged, and angular post-punk, with an indie-guitar rock that has an underlying feel of an orchestra. You can really hear one true worship of artists like Dinosaur Jr., Smashing Pumpkins, and Joy Division pulsing throughout Civilized.
To focus on what makes this trio so unique would be to focus on upright bassist Alanna Meltzer. Meltzer poses the question, why can't an upright string bass be used in this genre? Well the answer to that question happens to be a bit complex for one answer. Songs like "Bing Bong," "You're the Blood," "Ambulance," "Much To Much" and "Here Is…" make a pretty good case why Meltzer is important and not just a left field gimmick. "Bing Bong's" guitar noises and tones actually mimic the name of the track during the verses. What makes this song equally appealing is the hard hitting breakdown near the end-I only wish it lasted longer. "You're the Blood" with its' length, keeps things moody, energetic, and sinister. Meltzer's bass notes anchor the guitars in interesting ways as the post punk passages build against a mood that leads into a solo. On "Ambulance," instrumental moments keep things fun yet fairly straight forward. Some repetitive, yet catchy hooks that fade out on noisy math rock swirls create some of my favorite moments on the album. Served up in a typical verse, chorus, verse pattern is the consistency that really works for Jews & Catholics here.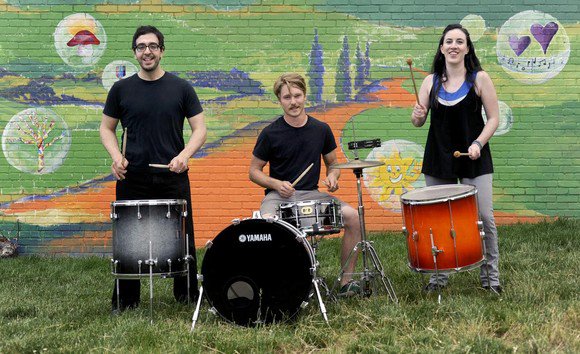 What's the second part of the answer? Well, Civilized isn't a perfect record and every now and then hits a misstep or two – maybe an underutilization of Meltzer? "Sabine Women" seems to have some sort of historical context to it but, that extra push cannot save it from its repetitive, almost muddled nature. Its length comes to bite it in the butt as well. At almost six minutes, its punch and ferocity is diminished as the end noise rocks itself into oblivion. "Tokyo" continues Civilized's post punk tirade with intense chords and an urgent tempo but it seems to rest on its laurels a bit as Jews & Catholics progression similarities start to show through.
Jews & Catholics' Civilized has its moments and from my listening experiences is best heard loud or with headphones. They continue the search for growth and dynamics like their last release in 2010 Who Are? We Think We Are!. We will keep hoping for these guys-and gal-because once they find that special something then Jews & Catholics will be an even stronger force on the scene.
Key Tracks: "Bing Bong", "Ambulance", "Much To Much"
Artists With Similar Fire: Mission of Burma / Smashing Pumpkins / Sonic Youth

Jews And Catholics Website
Jews And Catholics Facebook
– Reviewed by Christopher Tahy
Latest posts by Christopher Tahy
(see all)