The Julie Ruin


Run Fast
TJR Records [2013]



Fire Note Says: Bikini Kill legend Kathleen Hanna returns with the debut of new group The Julie Ruin.
Album Review: There really is no argument on how legendary riot grrrl pioneer Kathleen Hanna (Bikini Kill, Le Tigre) has impacted the music scene today. It also seems that her style of music has been creeping back into the indie mainstream so it is the perfect time for Hanna to launch a new group with The Julie Ruin. You may remember the moniker, as the group is named after her self-titled solo record Julie Ruin back in 1998. That record was much more lo-fi and was a precursor to the more synth work with Le Tigre that released three full length records before stopping in 2006.
That brings us to the present day and The Julie Ruin is a fully formed band that has several familiar faces from Hanna's past with Kathi Wilcox on bass (Bikini Kill bandmate), Kenny Mellman on keys ('Kiki and Herb'), Carmine Covelli on drums (actor, filmmaker) and Sara Landeau on guitar (met Kathleen mentoring at Rock Camp for Girls). This full act sounds polished and Run Fast is a true blending of Bikini Kill and Le Tigre but also has a fresh bounce to it that differentiates itself from Hanna's past work.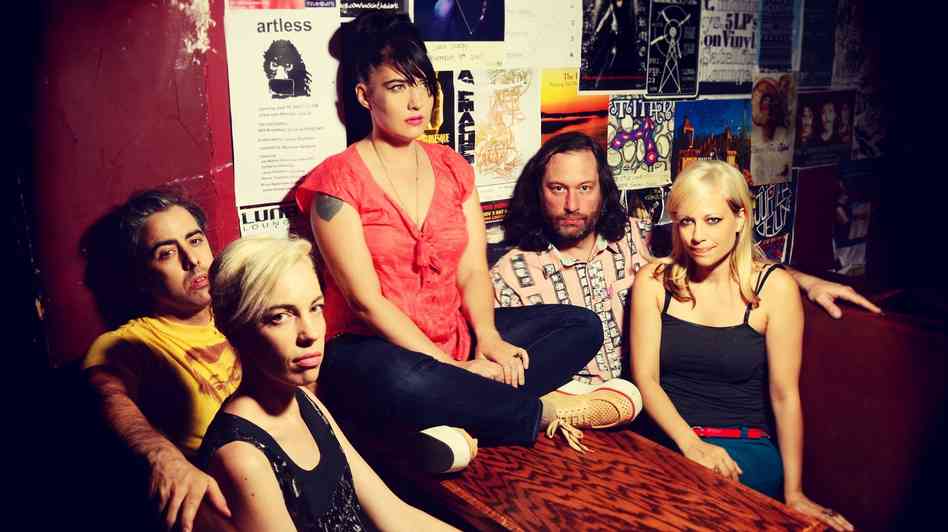 Some of this energy comes from keyboardist Kenny Mellman who also sings a notable backup vocal that is playful but direct. Much like how Fred Schneider added to the B-52's sound, Mellman does the same in the background for The Julia Ruin on songs "Kids In NY," "Party City" and "Ha Ha Ha." Other tracks like "Just My Kind", have this swaying effect to them as the love song has a retro early 60's girl group vibe going on. It is also an interesting track because it was produced by James Murphy of LCD Soundsystem.
Before anyone thinks all of the "riot" is put on the back burner here should not fret too much as Hanna's vocals by nature possess that edge. Tracks like "Stop Stop" and opener "Oh Come On" will keep it real for most longtime fans and just show that no matter what Kathleen touches, you can never take her youthful punk rock spirit out of the project completely. And honestly, I don't think she wants to because Run Fast keeps a quick pace and has plenty of "classic" sounding vocals and guitar. What I liked hearing on the debut from The Julie Ruin was the fresh synergy that the group emits. Sure this is a Kathleen Hanna project but the rest of the band steps up and makes it a group effort. This is another chapter of Hanna's career that I hope progresses because I think The Julia Ruin will only get better moving forward!
Key Tracks: "Ha Ha Ha", "Stop Stop", "Lookout"
Artists With Similar Fire: Le Tigre / Kitten Forever / Bangs
The Julie Ruin Website
The Julie Ruin Facebook
TJR Records
– Reviewed by Christopher Anthony
Latest posts by Christopher Anthony
(see all)