Laura Veirs


Warp And Weft
Raven Marching Band Records [2013]



Fire Note Says: Veirs offers up a more lushly-produced follow up to July Flame.
Album Review: Portland-based Laura Veirs' ninth album Warp And Weft feels like a natural extension of her excellent 2010 effort July Flame. But where that album felt as organic and natural as the woods of her home state, Warp And Weft reflects Veirs' studio craft and arrangement skills. It's a hazy, moody, and altogether more eclectic record, at times recalling the whimsical rock of Saltbreakers—only now that sound is filtered through a more complex production style and retains some of the melancholy that made July Flame so successful.
It's apparent from the opening chords of "Sun Song" that Warp And Weft is a more "produced" album than its predecessor: plucked violins, bowed cellos, washes of pedal steel, electric piano, and echoing electric guitar combine with Veirs' and guest vocalist Neko Case's harmony vocals. The effect is a Brian Wilson-style "pocket symphony," but one on which Veirs' fingerprints can clearly be seen. The energy is kicked up a notch on "America," a crackling "state of the union" song with bristling electric guitars in the forefront of the mix, sweeping strings and layers of vocals adding some weight behind Veirs' clever lyrics: "How can it be so cold out here in America? / Everybody's packing heat in America." As on July Flame's "Carol Kaye" (about the legendary Wrecking Crew bass player), Veirs pays tribute to one of her musical heroes in the form of a song. "That Alice" is a catchy little tune about Alice Coltrane, wife of jazz saxophonist John Coltrane, and while the lyrics can get a little cliché at times ("That Alice / Made a palace / For our ears"), the sentiment is heartfelt and it's cool to get some insight into Veirs' influences.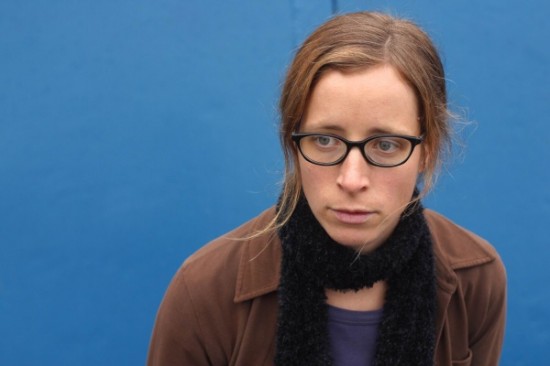 Other highlights include "Dorothy of the Island," with its sparse arrangement and intriguing narrative, and "Say Darlin' Say," a quirky experimental song that is probably the heaviest track here. Sinister distorted guitars keep rhythm with what sounds like strange percussion track—until you realize it's just more guitars. The melody is catchy but totally unique, and while it may take a few listens to sink in, it'll be one of those you come back to time and time again (there's even a nice little tribute to Pet Sounds at the end.) "Sadako Folding Cranes" is another standout—its Japanese-inspired arrangement features tinkling percussion and pitch-shifting guitars, making for a strange, mystical track. Closer "White Cherry" takes that Japanese feel and adds a jazz element, resulting in a lush, "watery" sound that ends the album on a satisfying note.
The only thing missing from Warp And Weft that makes it slightly less satisfying than its predecessor is that album's cohesiveness—the sequencing, atmosphere, and themes of July Flame made it feel like a complete whole. Warp and Weft, while containing some of Veirs' best songs, is a bit disjointed and just doesn't have that feeling. However, the experimentation going on, while not always successful (the two "interludes" in particular, "Ghosts of Louisville" and Ikara," didn't do anything for me), is a welcome change of approach, and it'll be interesting to see what direction Veirs takes on her next one. But until then, there are more than enough great songs to justify a listen, and you'll probably find that one won't be enough.
Key Tracks: "Sun Song", "Say Darlin' Say", "White Cherry"
Artists With Similar Fire: St. Vincent / Neko Case / The Decemberists

Laura Veirs Website
Laura Veirs Facebook
Raven Marching Band Records
-Reviewed by Simon Workman
Latest posts by Simon Workman
(see all)