Richard Buckner


Surrounded
Merge Records [2013]



Fire Note Says: Buckner expands his sonic palette on his tenth studio record.
Album Review: Buckner spent nearly five years working on the follow up to his 2006 lp, Meadow. When 2011's Our Blood was finally released, after having been rerecorded three times, most were pleased with the results. It was a return to his stark roots, moody, dark, sparse instrumentation, whereas Meadow featured a group of collaborators that included ex Guided by Voices members Kevin March and Doug Gillard, Our Blood was Buckner facing his demons alone. Surrounded continues in this vein, and the results are similar, the main difference being in the experimentation with sound manipulation and instrumentation.
Buckner has always worked in dark territory, his songs could be the soundtrack to gritty film noir or his lyrics could be more fleshed out and almost read as pulp crime fiction. His style is uniquely his own, he isn't really folk, and he isn't really alt country. His songs sit uneasily somewhere between. They are dusty, dank, and desolate tales that scrape at the underbelly of society, and the songs on Surrounded, his 10th solo album are no different. The songs on Surrounded sound fresh and unlabored over, not surprising given all of the difficulty Buckner had recording Our Blood. Sonically, the tracks on Surrounded sound different that anything Buckner has done. He is experimenting with loops, backward tracks, and different pedals, which give the songs a more experimental feel; they certainly feel more "full" than his previous work. Buckner's work in the past has always had a lot of space between the notes, but now he is filling in those spaces with different sounds. "When You Tell Me How It Is" is the first example of this new sound. Underneath Buckner's guitar, is a looped track that perfectly fills in the gaps of the song. It isn't a radical sound, in fact it's quite subtle, but it is enough to really alter the terrain of the track, and make it quite stunning. "Foundation" is another track that benefits from a similar technique. Its looped sounds almost sound extraterrestrial and definitely make the song sound otherworldly.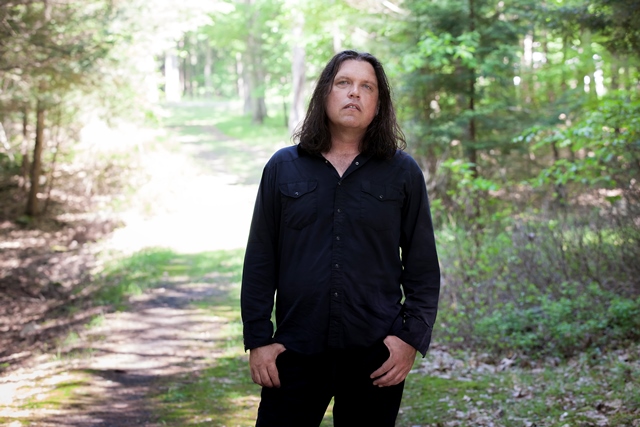 Don't get the wrong idea, Buckner hasn't made an electronic album, there are no drum machines here, or other electronic sounds. He isn't creating electronic music; he is just using some of these sounds to augment what he has always done. In some respects, Buckner has made the same album he always makes, and that's a good thing, but he has also opened himself up to a whole new vast array of colors to perhaps paint his next masterpiece. Longtime fans will be pleased with Surrounded, and hopefully it will serve as an introduction to a whole new group of fans.
Key Tracks: "Made Up Mind," "Sweet And Low," "Misunderstood"
Artists With Similar Fire: Jay Farrar / Townes Van Zandt / Steve Earle
Richard Buckner Website
Richard Buckner Facebook
Merge Records
– Reviewed by Kevin Poindexter
Latest posts by Kevin Poindexter
(see all)