Pond


Hobo Rocket
Modular Recordings [2013]



Fire Note Says: Perth natives continue to stir the Pond into a strange, interstellar brew.
Album Review: Why can't we just grade albums a fun factor anymore? If that was the case 5 headphones for Pond, done and done. This album was made by fans of music for fans of music; whether or not they get carried away, well, I'll let you be the judge. There are many reason to get excited about this album. First and for most, the ties to acclaimed Aussies Tame Impala: Cam Avery, Jay Watson (both current Impala members), and Nick Allbrook (ex-Impala member). Second, their last LP, Beard, Wives, Denim garnered the West Oz five piece some great hype. Pond now delivers their follow up album, and they couldn't have pegged it with a truer name. Hobo Rocket speaks volumes with its four syllable name: trash bags, rusted shopping carts, bits of string, and tin cans rope together a collection of epic psych, pop, glam, garage, folk, and dance.
Hobo Rocket's entire reason for existing is to create a nonstop brain assault, a "tip-of-the-tongue" feeling. Right from the beginning "Whatever Happened to the Million Head Collided" blasts off and ropes you into a cosmos of cozy nostalgia. Nick Allbrook's vocals kick everything off and the track culminates with pulsating keys, guitars, and drums. But Pond only seems to be getting warmed up, churning a freak-out that sets the heartbeat of the universe. "Xanman" is a super nova that takes influences from David Bowie, Tame Impala, MGMT, The Flaming Lips and others to create a feel good garage-infused cosmic cocktail. "Oh Dharma" contains some of the most impressive moments on Hobo Rocket both lyrically and instrumentally; the acoustic guitar and pedal steel hit a heavy "Space Oddity" vibe—your mind sings "Here am I sitting in a tin can" as the tune glides by. Among all the whimsy, Allbrook works in the lyrical gem "If you mother fuckers don't like it you can all get out"—I always love a good mother fucker poised against whimsy. If "Oh Dharma" is equal parts lucid Bowie and exaggerated MGMT, then "Aloneaflameaflower" is three parts hollow "Welcome to the Machine" Floyd, the cold calculation of The Flaming Lips deep space, and a Zappa-charged acid flash.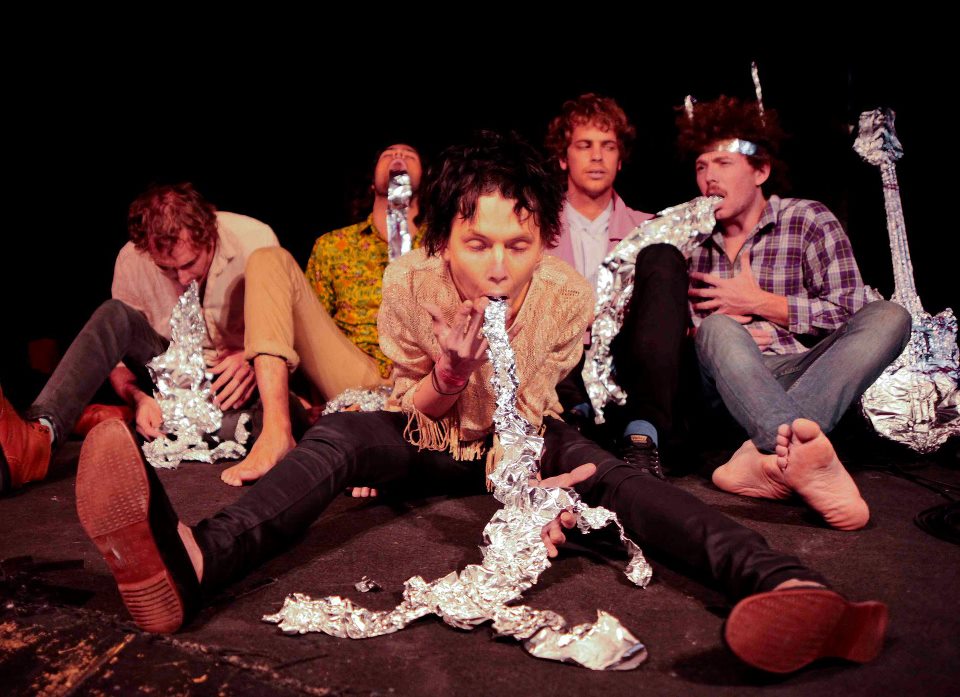 Here's the funny part: Hobo Rocket had me right in its hands all the way up through "Giant Tortoise." But with the last two tracks, "Hobo Rocket" and "Midnight Mass (At the Market Street Payphone)," the Pond becomes shallow. Shaving those two off would have made for a complete 4 headphone or maybe even a 4.5 headphone EP. However, what's here still has the hooks and chops to entertain. Pond's Hobo Rocket isn't a diversion or competition for Tame Impala but an intense and expressive extension. The musicality here reflects a scintillating A.D.D. effect that could engage even the most distracted because of its many musical relations—it's goofy fun to pick out the closest influences. Pond now has my ear; let's see if they can capitalize on it with the upcoming release of Hobo Rocket's follow up Man, it Feels Like Space Again.
Key Tracks: "Xanman", "Oh Dharma", "Aloneaflameaflower"
Artists With Similar Fire: The Flaming Lips/ MGMT / Mink Mussel Creek
Pond Website
Pond Facebook
Modular Recordings
-Reviewed by Christopher Tahy
Latest posts by Christopher Tahy
(see all)