A.S.


Exile
Inedible Records [2013]



Fire Note Says: A.S.'s second album Exile is moody and atmospheric.
Album Review: The enigmatically named band A.S. consists of Nick McRoberts (voice, piano) and Idriss Halfaoui (guitars). The duo is based out of Paris (and sings in English) and it's safe to say that the occasional grayness of the city had an effect on the songwriting for Exile. This is their second LP following 2009's Intimate Circles. This outing is a decidedly morose affair, but often strikes with beautiful chords and simple but elegant song construction.
One of the highest points of the album is the second track, album-titled "Exile." One of the more upbeat tunes to be found, the verse is understated and works within McRoberts' range. The chorus isn't quite anthemic but is swelling. Barely noticeable backing vocals provide subtle harmonies. McRoberts sings of being on "exile" and he does a great job of conveying both loss and resoluteness in making his return. Piano is a core instrument used on the album as a whole, but is missing on this track.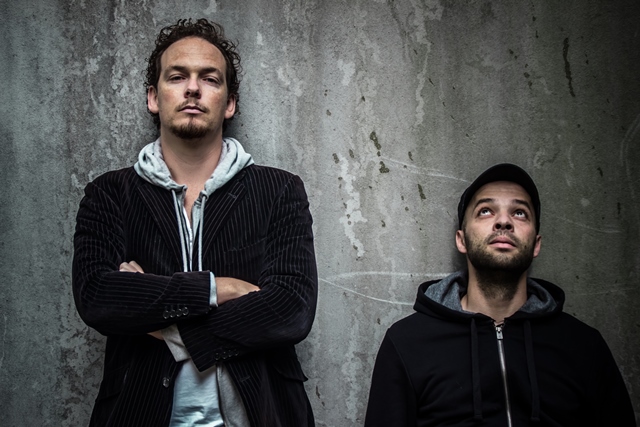 One track that puts piano front and center is "Pleasure and Pain." This is a relatively simple song but its sparse arrangement is effective in evoking a sense of longing. The song title speaks more to the feel that's created as well as the actual lyrical content. Guitar makes a slight appearance at the chorus but this is essentially piano and vocals. The reverse is true of "Fast," which sounds like A.S.'s attempt at a Radiohead song. McRoberts doesn't have Thom Yorke's voice and the instrumentation is more limited, but this song compares favorably to something off of Radiohead's most recent release.
A.S. knows what it wants Exile to be and excels at creating a moody, melancholy album. Giving the LP several listens I had a hard time connecting with it for some reason. I appreciate its beauty from afar but couldn't get swept up in it. It could be that it's missing that dynamic centerpiece upon which the rest of the album could be built. Exile is still a worthwhile listen and it wouldn't surprise me to have someone refute my impressions.
Key Tracks: "Pleasure and Pain", "Exile", "Fast"
Artists With Similar Fire: Muse / R.E.M. / Radiohead

A.S. Website
A.S. Facebook
Inedible Records
-Reviewed by Matthew Heiner
Latest posts by Matthew Heiner
(see all)