XTC


Drums And Wires
Virgin Records

Released: August 17, 1979
Producer: Steve Lillywhite
Length: 52:32
The album cover got me right away. I had to hear this record. So I bought it without the slightest idea what they would sound like. And I was hooked. From that moment on I have been a fanatic of this band. All twelve of their proper studio albums were good. Several of them great. This one was perfect.

XTC were one of the most influential bands to come out of the so-called new wave that began rearing its ugly head in the UK after the first crescendo of punk had subsided. Andy Partridge and Colin Moulding (the band's only two constants) were originally joined by Terry Chambers on drums (he quit in 1983 once the band had quit touring) and keyboardist Barry Andrews (whose son, Finn, is in the band The Veils). This line-up made two really good albums together and then Barry departed to go work with Robert Fripp of King Crimson. This left the Swindon-based group with a big decision: replace Andrews with another keyboard player and cash in on the synthesizer and organ sound that was the current trend (see: The Cars, B-52's, etc.) or hire a second guitar player. Thank God they chose option number two. The addition of Dave Gregory took them away from herky-jerky New Wave and into sophisticated Beatles-esque pop. But this album, along with its equally superb follow-up, Black Sea, was the exact moment those two ideals merged into a coherent and stunning whole.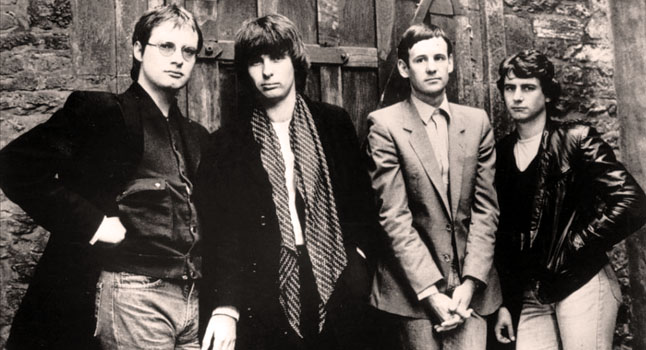 The interlocking guitars of Partridge and Gregory were full of syncopation and dissonance – none of it haphazard. This was the result of painstaking work and experimentation. They were stretching post-punk and wrapping ska around very British pop songs. The huge drum sound and Moulding's exquisite bass lines kept everything moving and, at times, made them almost danceable. Current artists such as Franz Ferdinand, Maximo Park and The Futureheads owe much to XTC in this regard. Along with the improved musicianship, both Partridge and Moulding were at their songwriting peak here. Of the fifteen songs that make up the extended version of Drums And Wires, nine were penned by Partridge and six by Moulding. This ratio would never again be matched as Partridge began taking over more and more of the writing duties. That balance between the two is a big reason why this record stands up better than other XTC standard-bearers such as English Settlement (1982) or Skylarking (1986).
Then we have the songs themselves. Even the titles speak to the clever nature of them: "When You're Near Me I Have Difficulty", "Making Plans For Nigel", "Roads Girdle The Globe". These are all full of the witty word play for which critics either loathed or lauded them. Partridge, in particular, had a unique way of blending the obvious with deeper insights. You have the Orwellian nightmare of "Real By Reel" and the ode to a serial killer "Scissor Man." Neither sound sinister despite the subject matter. In fact, like most of Drums And Wires, they're bouncy and joyful. And that is what XTC was doing best at this time – taking serious music and making it fun. When the drums and bass are playing 4/4 time and the guitar shifts to 5/4 at the end of "Day In, Day Out" it doesn't feel like dinosaur prog. Or when Moulding plays in a minor key while the rest of the band is in a major key in "Life Begins At The Hop", it still sounds like a band enjoying the lack of constraints. It was, for lack of a better phrase, Art Pop. Although they never had a hit song in the US, "Making Plans For Nigel" did make it to #17 in the UK. And if imitation is the highest form of flattery, Partridge and Moulding should take some satisfaction in seeing their brand of jittery pop come back into favor every ten years or so.
Deep Cuts: "Helicopter", "Ten Feet Tall", "Outside World"
Artists Influenced by XTC: Bloc Party / Red Hot Chili Peppers / Field Music
Interesting Fact: On 2 April 1982, XTC were scheduled to play at the Palladium in Hollywood, California, but did not appear. The audience milled about the open festival floor for an hour after opening act Oingo Boingo departed the stage, and then finally it was announced that XTC would not take the stage due to the "illness" of one of the band members (later revealed as Andy Partridge's ongoing battle with stage fright.) They never played another tour date.
What is XTC up to now: Partridge started Ape Records as a vehicle to peddle all things XTC. Moulding has disappeared entirely, stating he doesn't even listen to music anymore, let alone write any. A strange end to a wonderfully strange band.
XTC Website
XTC Facebook
-Feature by Scot Lade
Latest posts by Scot Lade
(see all)