The Dodos


Carrier
Polyvinyl Records [2013]



Fire Note Says: The Dodos stay true to their sound with Carrier.
Album Review: The Dodos have released their fifth album, which has the name Carrier. The San Francisco duo of Meric Long and Logan Kroeber are following up on 2011's No Color. No Color was one of my favorite albums of 2011 and I still play it front to back about once a month. I begged to be able to review Carrier because of the high expectations I held for the band. You no doubt know how this story ends.
Carrier is not as good. Mind you, it's a perfectly decent album that lacks the oomph of its predecessor. No Color began with the pounding percussion of "Black Night." "Don't Try and Hide It" taught my children that dad's music can be enjoyable. There are no such moments like those two I mentioned here. The album gets off to a start with "Transformer," which creeps in with lilting guitars. This makes for a much more subdued entrance and gives a sense of what's to come of the rest of Carrier. It makes sense that the band would attempt to diverge from the formula of the previous success. The decision just didn't work for me.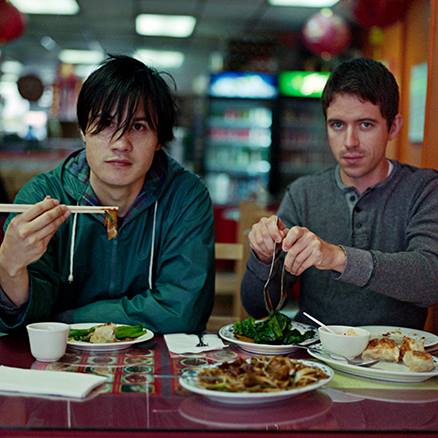 "Transformer"'s focus on guitars shifts attention away from what I think is the defining element of The Dodos: Kroeber's relentless work on drums. "Substance" allows for the drums to shine and adds depth to the song. "The Current" doesn't quite live up to its promising electric title but is a solid number nonetheless. Long's tenor shines on the track. "Stranger" is the best all around song, with strong vocals, guitar, drums, and lyrics. The song builds and builds and ends abruptly – much like the rest of the album it is loaded with promise but doesn't quite connect.
The first time I listened to Carrier I was underwhelmed. The album did grow on me a bit but is still a slight disappointment. The Dodos even fall into greeting card territory with "Family." Sample lyrics: "Family, family first" and "Success, success is failure." Such missteps stick out on an album that lacks the moments that have defined the band.
Key Tracks: "Substance", "The Current", "Death"
Artists With Similar Fire: Grizzly Bear / Local Natives / The Shins

The Dodos Website
The Dodos Facebook
Polyvinyl Records
-Reviewed by Matthew Heiner
Latest posts by Matthew Heiner
(see all)