Arctic Monkeys


AM
Domino Records [2013]



Fire Note Says: Arctic Monkeys bravely push into a new groove on their engaging AM.
Album Review: It does not seem that long ago since everyone was rocking out 2006 with the Arctic Monkeys' hit "I Bet You Look Good On The Dance Floor." It would have been easy for the Sheffield, England band to stay the course over the last seven years but with each album since their debut, Whatever People Say I Am That's What I'm Not (2006), the group has taken progressive steps towards a different sound. It really started when Josh Homme (Queens of the Stone Age) produced Humbug (2009) and the Arctic Monkeys came off way more serious and interested in tempo and song structures. The result for me was their weakest record to date but without it, their new long player, AM, would not exist.
As their last LP, Suck It and See (2011), proved the band did not need some big stand out single to succeed. The songwriting, rhythms and confidence helped Suck It sound fresh and give Arctic Monkeys a renewal on their musical life. All of this development has now landed the Artic Monkeys in 2013 with a very rewarding record in AM. It is an album that I will warn right away that it is not like their first two and keeps most of the tracks at a very steady mid-tempo beat.
If you are still reading this review after that warning – great! I say that because AM is a record that will challenge your every sense of what you think the Artic Monkeys should be doing these days. Things start with the deep rock blues groove on the opening "Do I Wanna Know?" which will instantly have you thinking Black Keys. The swaying track features singer Alex Turner in full control delivering the verses as the whispering harmonies in the supporting background will have your foot tapping along in no time. The catchy upbeat wordplay in "R U Mine?" will quickly grab you, as the song once again features this grooving strong guitar structure that gives the album its strength. This prominent big rock backdrop runs throughout AM but is extremely prominent on "Arabella." The track has several recognizable guitar licks behind the scenes that include Sabbath's "War Pig" and Mötley Crüe's "Shout at the Devil." They are subtle but the song resemblances are there and never distract from the new song because the pulsing rock continues as Turner once again rapid fires back n forth with the band vocally.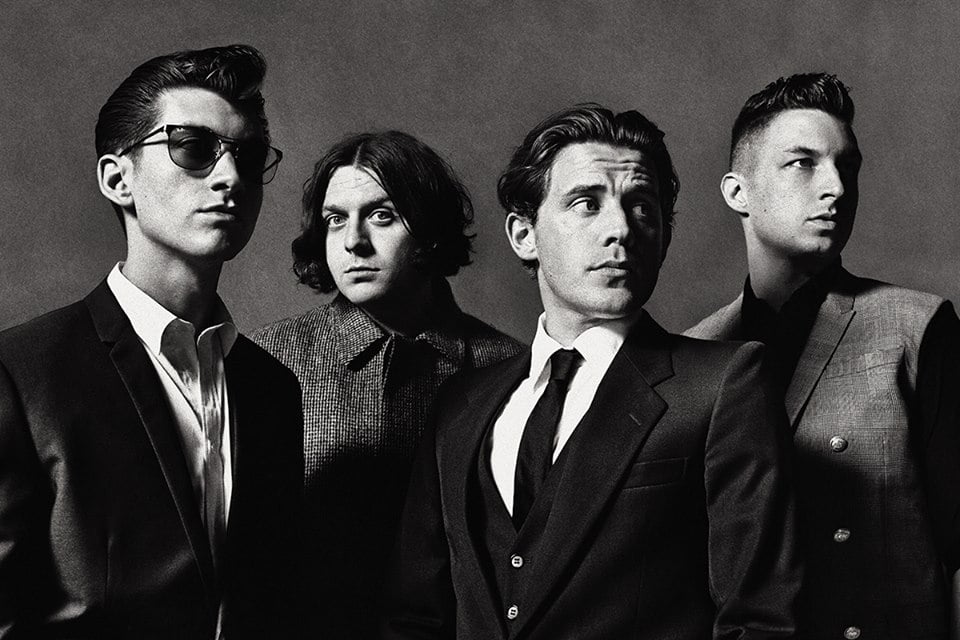 Some of this sound should be credited to producer James Ford as he is already responsible for three other Monkeys records but maybe even more from the mixing of Tchad Blake. Blake mixed the last several Black Keys' records and you can hear the influence on this album. AM also finds guest appearances from Queens of the Stone Age's Josh Homme, Elvis Costello's drummer Pete Thomas and ex-Coral man Bill Ryder-Jones. The guests are a nice addition and blend in well with the project. It is a good balance of not standing out too much but also being careful not to hinder the album's flow.
AM's only small drawback for me is that its tone and tempo all hit around the same area and just a little more diversity in range would have went a long way for me. AM really is never too low and never too high. With that said, there is plenty to like as the group infuses a stylistic R&B and bluesy rock into their unique indie sound. This makes for tracks that you can't get out of your head quickly and regardless of why you hit repeat – you just do! AM is a record to sit with and give multiple spins before passing judgment because it not only gets more catchy with each spin but you discover new things in the mix. I think AM is better than the Arctic Monkeys last two records and will find its way into my best of list at the end of the year as its darker songs about drugs, lust and isolation somehow, someway, still make a very bright listen that I can't turn off!
Key Tracks: "R U Mine?", "Arabella", "Why'd You Only Call Me When You're High?"
Artists With Similar Fire: The Black Keys / The Jam / The Strokes
Arctic Monkeys Website
Arctic Monkeys Facebook
Domino Records
-Reviewed by Christopher Anthony
Latest posts by Christopher Anthony
(see all)