Bob Dylan


Another Self Portrait (1969-1971): The Bootleg Series Vol. 10
Columbia Records [2013]




Fire Note Says: From one of Dylan's most reviled albums comes one of his most essential releases.
Album Review: 1969-71 was one of many periods of transition for Bob Dylan, but it was one of the most important. He'd already gone through a drastic shift a few years earlier, from protest folk hero to rock legend, and The Bootleg Series Vol. 10 catches Dylan after he'd begun exploring what Greil Marcus famously called "the old, weird America," (in other words, traditional folk, country and blues). While 1969's Nashville Skyline was more or less well-received, it's follow-up, 1970's double-LP Self Portrait, confused and alienated Dylan's legion of fans with its strange mix of slickly-produced covers, oddball originals, and live tracks. All they wanted was another Blonde on Blonde.
Enter Another Self Portrait, a reexamination of the period that includes outtakes (from Nashville Skyline, Self Portrait, Greatest Hits II AND New Morning), alternate and undubbed versions, more live cuts, and other unreleased material. While some might ask why you'd want to take a closer look at an album with such a negative reputation, the result is not only better than the original Self Portrait, it's one of the best collections released under the Bootleg Series banner so far, rivaling 2008's Tell Tale Signs (BS Vol. 8) and the original Volumes 1-3 in terms of importance and quality.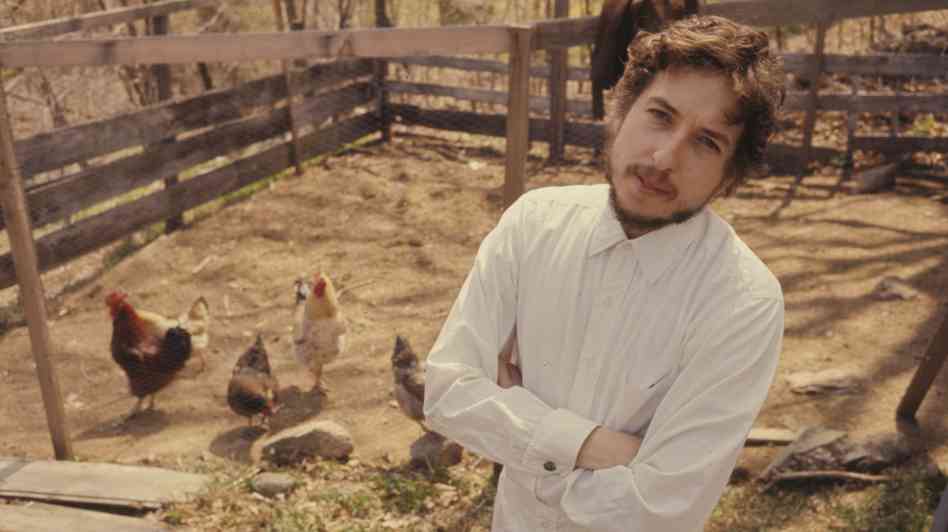 The alternate takes and tracks without the syrupy overdubs are some of the nicest surprises, with "Alberta #3," "Copper Kettle" and "Belle Isle" all better than their Self Portrait counterparts. There are several demo versions as well, with opener "Went to See the Gypsy" and closer "When I Paint My Masterpiece" being particularly revealing. The collection's title is somewhat inaccurate since one track, "Minstrel Boy," is a previously unknown recording from the 1967 "Basement Tapes" sessions with The Band, but its presence here is worth the price of admission alone. If that's not enough, there are two fantastic cuts from Dylan's only concert of the late 60s, 1969's Isle of Wight performance with The Band (included in full on the deluxe edition), and George Harrison plays lead guitar on one of the few previously unreleased originals here, the New Morning-era "Working On A Guru."
There are several other highlights throughout the set, from the alternate Nashville Skyline takes and Greatest Hits II outtake "Only A Hobo" to the arrangement experiments for New Morning—it's a lot of fun hearing, say, "If Not For You" in stripped-down form with just bass, piano, and violin, "Sign On The Window" with overblown orchestral accompaniment, or "New Morning" with horn overdubs. But one of the set's greatest strengths is Dylan's continued interest in folk songs, both new and old: "Pretty Saro" contains one of his all-time best vocal performances; "Railroad Bill" is a fun take on the old standard; "Thirsty Boots" takes Kris Kristofferson's original and transforms it into a Bob Dylan classic; and "This Evening So Soon," the prototype for Dylan's own "Tell Ol' Bill," is one of the most engaging performances on the set.
And that just scratches the surface—at thirty-five tracks and nearly two hours, this is an absolute treasure trove for Dylan fanatics, even more so since these years have been relatively under-explored in the other Bootleg Series releases. Whether you want to reevaluate the Self Portrait-era or want to use this set as a way to dip your toes into his post-Blonde On Blonde/pre-Blood On The Tracks material, The Bootleg Series Vol. 10 is well worth checking out—over fifty years since his first album, Bob Dylan is still surprising us.
Key Tracks: "Minstrel Boy," "Pretty Saro," "Highway 61 Revisited (Live)," "This Evening So Soon"
Artists With Similar Fire: The Band / Johnny Cash / The Beatles
Bob Dylan Website
Bob Dylan Facebook
Columbia Records

-Reviewed by Simon Workman
Latest posts by Simon Workman
(see all)