Over The Rhine


Meet Me At The Edge Of The World
Great Speckled Dog Records [2013]



Fire Note Says: Even as they write songs about life's inevitable end in death, Over the Rhine seek the passion and beauty of life's loves.
Album Review: "We are hungry for the secret news about life," said Stanley Kunitz, the former poet laureate. He was describing humanity's unique special relationship with the sacred ground that poetry, and music and the arts, uses to call our consciousness awake. Over the course of 24 years and 14 albums in total, married partners Karin Bergquist and Linford Detweiler, have been given words to express the inexpressible secret news, setting musical contexts that reveal the thing we've known all along about life but couldn't see it until we heard it first or awakening us to the mystery that's been hidden right before us in plain sight.
With the 2011 release of "The Long Surrender," the songwriting duo turned to producer Joe Henry to create an album of deeply personal and evocative songs, made possible by the funding of their fans in a Kickstarter campaign. Just as they often return to songs about their native state and life in nature around their farmhouse home, they went back to work with Henry at his Garfield House studio in So. Pasadena. In Henry's capable hands, backed by the Band of Sweethearts – Eric Heywood, various guitars and pedal and lap steel; Jennifer Condos, basses; Jay Bellerose, drums; Patrick Warren, keys and accordion; and, Mark Goldenberg on additional guitars, mandolin – they created a lush, often haunting soundscape to support the earthy poetry that give the songs their purpose.
Of course, a decade ago, Over the Rhine released a double disc album about their home state, aptly titled Ohio, so it's not surprising that they've done it again. What's more than a little amazing is how little the two records, while familiar on the surface, are redundant or repetitive. As with most poetry that matters, Detweiler and Bergquist often explore the meaning and passions of life, the reality of struggle and the finality of death, exposing the dark sinister reality that poses as something other than it is, pointing us toward the beauty and love we are likely to take for granted or miss entirely because it comes wrapped in the trappings of everyday life.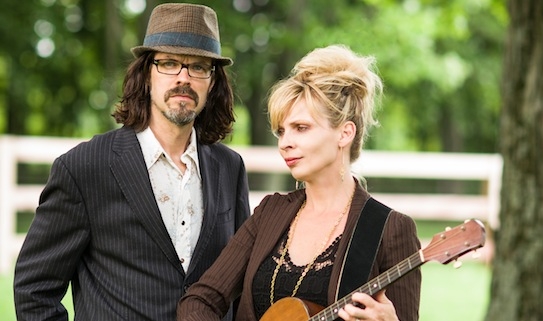 Looking for a metaphor of life-long loving relationship that matches their own artistic devotion, they sing of the "Earthbound Love Song" of Johnny Cash and June Carter, while celebrating the little piece of heaven that is their rural hideout, the Nowhere Farm in the song "Baby If This Is Nowhere." Throughout, they seek to make a spiritual connection that refuses to give up the physical or sexual, they embrace the natural world while seeing in each beautiful moment something that points toward the "something more" where human hopes and longings are met.
Even as they write songs about life's inevitable end in death (the already mentioned "Earthbound Love Song," "Wildflower Bouquet," "Favorite Time of Light"), they seek the passion and beauty of life's loves, draining every glass, wasting no quiet moment (the title track, "All of It Was Music," "Gonna Let My Soul Catch My Body" "Blue Jean Sky").
Karin Bergquist exquisite vocals invite us into a world of their words creation, a world like the one we share with each other, but somehow more awake, more in harmony, more alive. While much has been made of the fragile musical duo that is The Civil Wars, one can't help but point to this band's hard won musical legacy, its committed fan-base and a touring schedule that brings them into intimate concert settings with those who have found encouragement and pleasure in their music. Like Johnny and June, this couple has gone the distance, and they keep finding deeper, more rewarding places to let the music and the poetry take them, take us.
Key Tracks: "Gonna Let My Soul Catch My Body," "All Over Ohio," "Earthbound Love Song"
Artists With Similar Fire: Lucinda Williams / Tift Merritt / Aimee Mann (who sings the harmony vocal on "Don't Let the Bastards Get You Down")
Over The Rhine Website
Over The Rhine Facebook
-Reviewed by Brian Quincy Newcomb
Latest posts by Brian Q. Newcomb
(see all)