King Khan & The Shrines


Idle No More
Merge Records [2013]



Fire Note Says: King Khan is back with a soul rock record that will get you grooving in a hot second.
Album Review: Album Review: It has been six years since King Khan & The Shrines released a full length of new material, so I was not really sure what to expect but I figured some spit-fire soul garage rock was a guarantee based on their previous releases. Well – six years has a tendency to change people, places and things. This natural progression has definitely impacted King Khan as Idle No More sounds more refined, more focused and more drenched in a 60's beat rock meets Motown sound that becomes quite infectious.
King Khan has always had a bit of this flashback vibe going on with their previous albums but it always had a strong garage pulse and at some point an almost punk edge to it that made the group much harder to compare with past eras. Idle No More changes that as the group embraces the retro sound and gives it everything they have to modernizing it as the songs address the world we live in today. Regardless of how you package it, Idle No More thrives on this historic sound as the strolling "Bite My Tongue" moves along with a foot tapping pace while the horns blare and Khan tells his story. "Thorn In Her Pride" even begins with a big string opening before the group sings out together with a head turning "ba ba ba, ba ba ba" as Khan sings the verse. The song comes complete with several "who who who's" for support before jamming back into the full on chorus with everyone behind him. The slow soul of "Darkness" will impress anyone, as it has a smoky blues undertone that is driven by Khan's emotional delivery. Elsewhere you can find Kahn's lyrical growth on tracks like "So Wild" which is a eulogy to his friend Jay Reatard that passed away in 2010 and the more political "Yes I Can't" which jabs at President Obama's "Yes We Can" campaign slogan.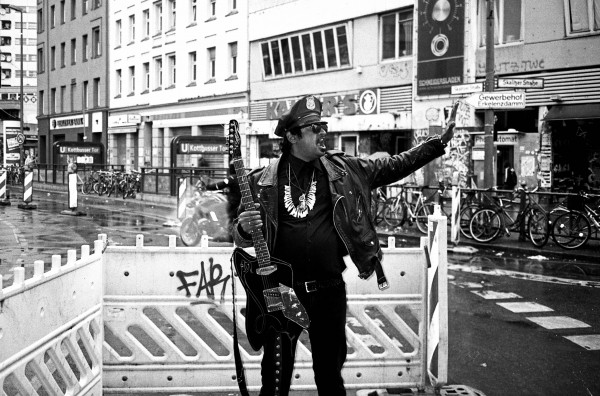 If you have been a fan of King Khan for a while I am not sure how you will react to this record. Idle No More is a fairly big step away from his past material. It does not have the same feverish punch that past recordings have had but Idle No More makes up for it with its smooth style, the excellent playing from The Shrines and the bigger highlights on Khan's vocals. This all combines for a record that gets better after every spin as Idle No More is not what you expected coming in but it is what you want on the way out!
Key Tracks: "Bite My Tongue", "Better Luck Next Time", "Yes I Can't"
Artists With Similar Fire: Spencer Davis Group / JC Brooks & The Uptown Sound / The Temptations
King Khan & The Shrines Website
King Khan & The Shrines Facebook
Merge Records
-Reviewed by Christopher Anthony
Latest posts by Christopher Anthony
(see all)