Franz Ferdinand


Right Thoughts, Right Words, Right Action
Domino Records [2013]



Fire Note Says: Franz Ferdinand's fourth LP doesn't disappoint as it hits the Right notes.
Album Review: Scotland's Franz Ferdinand hit the scene right around the same time as The Killers. "Take Me Out" and "Somebody Told Me" take me straight back to 2004. The two bands are linked because of their simultaneous ubiquity. Last year I reviewed the most recent Killers' album Battle Born – and now I have Franz Ferdinand's new one to compare it too. While Battle Born showed a band making "serious music," Franz Ferdinand thumbs their noses at such a notion. RTRWRA is a lot of fun as a result.
This fun is evident with the first three tracks – you can dance to them or sing along in a drunken haze (or a combination of the two). "Right Action" has the feel of a pub crawl, both in the musical tone and the somewhat incoherent lyrics. Of course there's a doo doo doo sing along and some hastily-shouted words at the end. Immediately following the song is the primal scream that introduces "Evil Eye." The lyrics are interesting but I'm still not sure what's going on here. It has a nice beat though.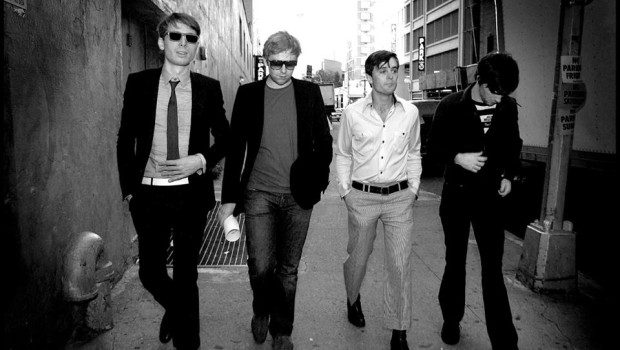 "Stand On The Horizon," the fourth on the tracklist, offers a brief repose from the aggressive pace of the beginning of the album. The speed picks up eventually and the balance between the disco groove and the more subdued verse works well. The song builds to a complex crescendo that emphasizes harmony and incorporating all of the other elements found in the song. For these reasons it's my favorite number on the album. "Bullet" is the last standout – it's a surf song that lives up to its name.
Franz Ferdinand is at their best when they're creating danceable rock songs. That's not to say that RTRWRA is packed with one type of song – "The Universe Expanded" is restrained in both rhythm and volume. These tracks allow the album to breathe and build appreciation for when the band goes all out. Fans of Franz Ferdinand will be pleased with RTRWRA and they may even attract a few new listeners. More than anything it's great to hear Franz Ferdinand continue to have fun as they evolve as a band.
Key Tracks: "Right Action", "Stand On The Horizon", "Bullet"
Artists With Similar Fire: The Killers / The Strokes / The Hives
Franz Ferdinand Website
Franz Ferdinand Facebook
Domino Records
-Reviewed by Matthew Heiner
Latest posts by Matthew Heiner
(see all)