The Paper Kites


Young North EP
Nettwerk Records [2013]



Fire Note Says: Young North presents a band poised for greatness.
Album Review: Chances are if I said "name a band from Australia," the list of answers I'd get would include acts like Tame Impala, The Bee Gees, or maybe even Men at Work. If the Young North EP is any indication, though, that list may soon include Melbourne folk-poppers The Paper Kites as well. While Young North is a short five tracks in length, its consistency hints that the band is in it for the long haul.
The Paper Kites' sound is centered around acoustic guitars, shuffling percussion and gentle harmonies, but it's a bit more diverse than it might appear at first. Opener "A Maker Of My Time" features some electric guitar textures and a hazy modern rock atmosphere. It's a decent start, but it almost seems as if the band is just warming up, an impression that is further enforced by the following track. "Leopold Street" fades in with acoustic guitar picking and tambourine, and within the first ten seconds it's as if the curtains have been pulled back and the sun is pouring in. The vocal harmonies, clean production, and catchy melody all scream 'single,' and it's one of the strongest tracks on offer here.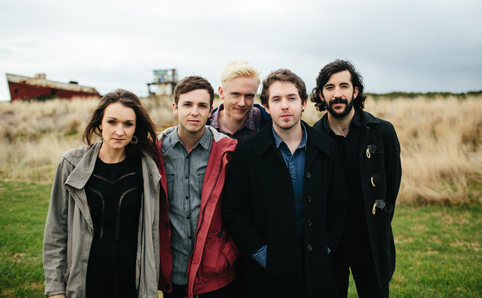 As good as "Leopold Street" is, "When Our Legs Grew Tall" is even better, expanding the instrumentation and bringing in extra layers of vocal harmonies. Its breezy melody effortlessly shifts from minor to major key, bringing all of the right elements together for three and a half minutes of blissful folky pop. "Paint" retreats from the sunny sound of the previous two tracks and trades it for a sparse, sleepy acoustic and piano combo, the band almost whispering their vocals over the soothing arrangement. Closing Young North is "Kiss The Grass," a slow burner that builds from the woodsy calm of the previous song into an appropriately majestic finale, before eventually finding itself back where it began.
While it's too soon to say whether or not The Paper Kites will become the next platinum-selling mega stars, if that fate is in the cards then there's a good chance Young North will be looked at as the beginning of that journey. Short but sweet, if nothing else this EP should alert those who appreciate the softer end of the rock scale that these guys are worth keeping an eye on.
Key Tracks: "When Our Legs Grew Tall," "Leopold Street," "Kiss The Grass"
Artists With Similar Fire: Elliott Smith / Mumford and Sons / Aaron Sprinkle
The Paper Kites Website
The Paper Kites Facebook
Nettwerk Records
-Reviewed by Simon Workman
Latest posts by Simon Workman
(see all)