Black Joe Lewis


Electric Slave
Vagrant Records [2013]




Fire Note Says: Black Joe Lewis unleashes a rip roaring rock party on third LP – Electric Slave!
Album Review: In our recent interview with Joe Lewis he stated that his third full length, Electric Slave, represents a new beginning for himself and the band. He went as far to say that he wasn't even that excited the way his two previous albums sounded overall. This mindset sets the stage for Electric Slave as it truly sounds like a fresh start that even includes a new label with Vagrant Records.
With a shakeup in the band, no more Honeybears in the name, no longer on Lost Highway Records and no more of Jim Eno (Spoon) behind the producing boards, Electric Slave truly seems like a new venture on a one sheet and a record with something to prove. What could have been a disaster for some, Black Joe Lewis have risen up here and struck a chord with Electric Slave that is more consistent, more focused, and rocks out even harder. First track, "Skulldiggin" is all you need to hear to get a good example of what good things are to come in the album's next 43 minutes. The song kicks off with a heavy reverb that shakes your speakers before Lewis' powerful vocals reign out with so much energy that you have no choice but to pay attention. The heavy riff, the groovin' beat and the power vocal blow just about any of Black Joe Lewis' previous tracks out of the water. "Young Girls" is up next and its rockabilly roll will keep your ear off balance as the song's raw sounding blend screams "this is rock n roll." This is what Lewis was talking about as previous records separated out his tracks into specific genres such as soul, rock and blues. Now with Electric Slave, all of the songs are blended together into one memorable genre for one fun ride.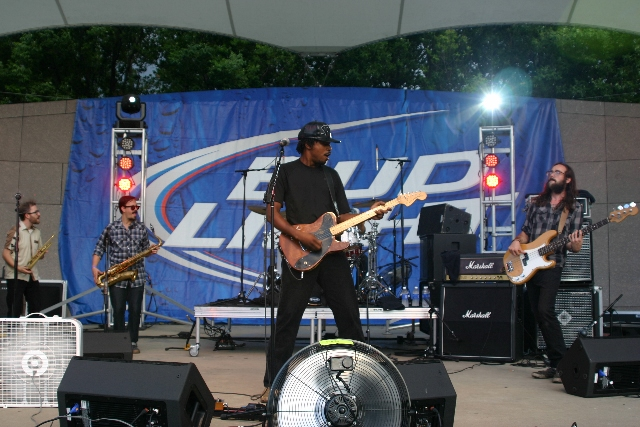 This more distinct mix is how Electric Slave rises above the band's previous efforts. You still get the horn section playing an important role here but instead of leading some of the songs, the horns are always there in support. There is no confusion that on "Dar Es Salaam" that Lewis' guitar is front and center, even though the horns consistently chime in. Even on the groovier dance song, "Come To My Party" you can hear the entire band working together as it features a strong throaty vocal from Lewis and the horn section playing an equal role with their distinguishable chords and a noticeable solo portion. This more unified theme comes out again and again on Electric Slave as the almost seven minute "Vampire" is the group's longest song to date and builds steam as it progresses forward and relies on everyone to keep up. With this team work you also then have Lewis offering up a sizzling blues guitar that perfectly rounds out the track.
Electric Slave is exactly the type of record that gets me going. It does not have the best vocals, its production by Stuart Sikes (White Stripes, Cat Power, Modest Mouse) is raw and the overall musicianship is nothing new but there is something about these three pieces that work together and push this record to the next level. Black Joe Lewis comes out sounding fresh as rollicking foot stompers like "The Hipster" keep your blood moving. Lewis' laid back style states it best as he politely says "Fuck that shit!" and lets his band go to work. Lewis sings every line like it is his last which just adds to the charisma of Electric Slave as you just don't want the party to end. I am not sure if Electric Slave will snag a larger audience but fans should eat this record up. Its boost of adrenaline works really well for Black Joe Lewis and now that their band turmoil is over, there should be no reason that when Lewis invites you to "Come To My Party" that you are not there early!
Key Tracks: "Skulldiggin", "Come To My Party", "The Hipster"
Artists With Similar Fire: The Jon Spencer Blues Explosion / R.L. Burnside / King Khan & The Shrines
Black Joe Lewis Website
Black Joe Lewis Facebook
Vagrant Records
-Reviewed by Christopher Anthony
Latest posts by Christopher Anthony
(see all)