The Seeds


"Bad Part Of Town" b/w "Wish Me Up"/"Love In A Summer Basket b/w "Did He Die"
Sundazed Records [2013]


Most psych and garage fans know The Seeds, especially their track "Pushin' Too Hard," which was featured on the seminal, Lenny Kaye-compiled Nuggets in the early 70s. What most casual fans of the band don't know is that after their initial breakup in the late 60s, the band briefly reunited with a revised lineup and recorded a handful of tracks for MGM records. Reissued by Sundazed Records for Record Store Day 2013 as a double seven-inch, these tracks can now take their rightful place among The Seeds' other legendary garage classics.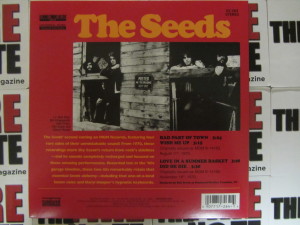 "Bad Part of Town" begins the proceedings with a fuzz-soaked onslaught of garage heaven, Sky Saxon's vocals sneering and John Crass's drums pounding away relentlessly in the background. Meanwhile, flipside "Wish Me Up" is laid-back in comparison, with Daryl Hooper's keyboards returning more prominently to the mix, and Bill Chiapparelli's bass running up and down the scale. "Love In A Summer Basket" kicks off disc two, with a hypnotic backing track that sounds somewhere between jazzier Soft Machine tracks and "Lucy in the Sky with Diamonds" (a similarity that's strengthened when Saxon sings "Strawberry Fields are waiting out there"). Finally, "Did He Die" finds Saxon experimenting with his vocal delivery, alternating between Dylan-esque talk-singing and proto-metal yelps, all the while backed by the band's garage grooves, once again demonstrating why The Seeds were one of the touchstones of the punk movement in the late 70s.


The sleeve is an extremely high quality gatefold, featuring a monochrome photo of the revised lineup on the front with the tracks listed above. The back features another picture of the band and a brief description of the tracks contained within. It's when you open up the gatefold, though, that the packaging really shines: in typical Sundazed fashion, there are thorough liner-notes (penned by Here 'Tis Magazine's Jeff Jarema) detailing the history of these tracks and this incarnation of the band, accompanied by more pictures of the band and even a photo of the master tape boxes. The records themselves are highly detailed as well, featuring recreated MGM radio promo labels—if it weren't for the small "sundazed" above the track times, you'd think you were looking at original copies.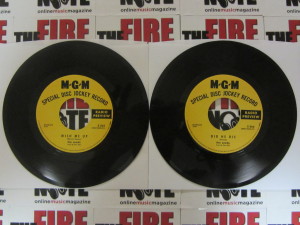 All in all, these tracks are a great addition to The Seeds' body of work, and as usual Sundazed has knocked both the sound and packaging out of the park. If you can find a copy (I've seen a few still sitting in RSD leftover bins), make sure to snag one—you won't regret it!
-Feature by Simon Workman
Latest posts by Simon Workman
(see all)