The Whiles


Somber Honey
Anyway Records [2013]



Fire Note Says: Somber Honey plucks its sweetness from multiple eras of pop and rock.
Album Review: The 60s is probably the most musically borrowed-from decade, especially amongst many of the artists we feature on The Fire Note. The experimentation, creativity, and downright cool factor make it an appealing period from which to draw influences. For Columbus's The Whiles, however, it isn't the latter half of the decade that serves as the basis for their sound—while there are subtle touches of psychedelia on Somber Honey, the vibe is decidedly pre-psychedelic rock and pop, with some folk and baroque leanings to-boot. The result is an album that feels sentimental while mostly avoiding over-syrupy sweetness, and one that occasionally hints at the aggressive and dark qualities that lie beneath the surface.
From the first notes of opener "So Sweet," the echoing, minor-key stomp crackles with energy, calling to mind the emotional intensity of pre-Rubber Soul Beatles, especially their first two albums, where you can still faintly hear the reverberations of their legendary Cavern Club performances. Joe Peppercorn's vocals mesh well with the urgency of the instrumentation, his croon sounding like a younger David Byrne singing in the smooth style of his more recent work. Which brings us to one of The Whiles' secondary influences: while the first half of the 60s is in the forefront here, there's also a bit of an 80s post-punk/new wave nod, with the bass and occasional synth bringing in a slight suggestion of New Order or Talking Heads. "Nothing To Do With This (Clouds)" is probably the most blatant example of this, but there are others scattered about the record, and it all gels pretty well.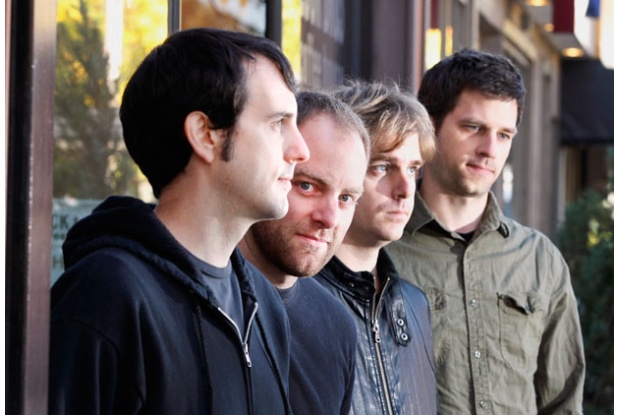 One of the most appealing aspects of Somber Honey is the production, the mix—the sound itself. These are great songs, and the production makes them sound both modern and classic at the same time, which is no small feat. The bass is nice and fat but not overpowering; the guitars have warm, clear tones; the drums have presence but don't hit you over the head with it. The orchestration is very classy too (there's that baroque influence), the strings sliding into place nicely without feeling overly saccharine. There are also some nice pedal steel twangs here and there, tasteful piano chords, even some banjo and horns (both of which make an appearance on the title track), all expertly arranged and never feeling out of place.
Don't get the impression that everything here is perfect—sometimes those orchestral touches do get dangerously sweet, and every once in a while it can feel like The Whiles can't decide exactly where they want to take their sound. But for the most part there's an absolute abundance of quality material on display, and certainly enough for any fan of similar 60s-style baroque pop bands (Belle & Sebastian, Ra Ra Riot, etc.) to warrant a listen. The Whiles may not be reinventing the wheel, but at the very least they've made a quality album, one that wears its romanticism and craftsmanship on its sleeve.
Key Tracks: "So Sweet," "Seems So Long Ago," "Somber Honey"
Artists With Similar Fire: Belle & Sebastian / Pre-Psychedelic Beatles / David Byrne
The Whiles Facebook
Anyway Records
-Reviewed by Simon Workman
Latest posts by Simon Workman
(see all)