Beach Day


Trip Trap Attack
Kanine Records [2013]



Fire Note Says: Beach Day's debut sounds exactly as you would expect – only much better.
Album Review: Hollywood, Florida is about the last place I would look if searching for a really cool indie band. Home to a mass a retirees and French-Canadian "snowbirds" (yes, your faithful reviewer lived there for a while) the only music scene of any consequence is big band at the beach amphitheater. Sandwiched between spring break obsessed Ft. Lauderdale and salsa and reggaeton stronghold Miami, it is the northern part of the state (i.e. – Gainesville) one finds a more vibrant environment for young musicians to thrive. So it is all the more surprising that despite Beach Day's obvious nods toward girl group 60's acts that it is so firmly entrenched in the modern. The Shangri-La's, the Ronettes and all things Phil Spector are readily identifiable targets. And being a girl-fronted trio from the sunshine state named Beach Day I would be disappointed if it were any other way. What I was not anticipating was a record of such quality and songs that demanded to be taken to the beach – along with the sunscreen, cooler and requisite latest James Patterson novel.
While mining this particular sound has proven to be a golden ticket for Best Coast, Dum Dum Girls, Tennis and many others, Beach Day is still swimming decidedly under the surface. After all, South Florida is hardly the best place to get noticed – unless you're a Spanish speaking rapper, that is. That said, it is certainly not for a lack of good tunes. The stand outs here include the title track, a song named after the band and the opener "Walking On The Streets." All of these showcase singer/guitarist Kimmy Drake's Belinda Carlisle-with-more-vibrato voice. Her guitar playing is solid but her tones are excellent. Kind of like Joey Santiago in his surf mode. To these ears it sounds like a Telecaster through a Fender Twin Reverb. Natalie Smallish and Skyler Black comprise the rhythm section and do yeoman's work. There are moments of cool gospel organ ("Little Weird"), handclaps, tambourines galore. Yep, pretty much everything you'd expect. The production is trebly and thin and has that old school AM radio anti-gloss. The album is definitely front-loaded and gets a bit samey-samey in the middle. The do save one of the better tracks for last with the rollicking "We've Gotta Go" which sounds like a perfectly titled closer if ever there was one.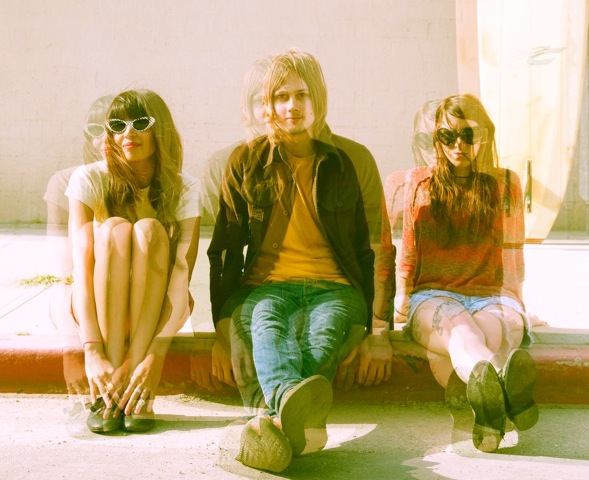 Apparently the three of them live and work together (at Smoothie Palace!) and the cohesion is obvious. There is a confidence throughout Trip Trap Attack that is uncommon with a debut. They know what they want to sound like and unapologetically accomplish it with a high degree of success. A little variety would have been nice but that's not what they were going for. So I give them credit for sticking to their guns but a move to the best (I mean west) coast might be a good idea. The grey hairs of Hollywood, Florida aren't nearly as hip as their younger counterparts in Hollywood, California. But hey, maybe Kanine Records wouldn't have put this out since they seem to love Florida acts (Surfer Blood, Viernes.) And what more do you want from a band called Beach Day with a freaking alligator with a diamond in its mouth on the album cover? That's what I thought.
Key Tracks: "Beach Day", "Trip Trap Attack", "We've Gotta Go"
Artists With Similar Fire: Best Coast / Dum Dum Girls / Cults
Beach Day Website
Beach Day Facebook
Kanine Records
-Reviewed by Scot Lade
Latest posts by Scot Lade
(see all)