Morningbell


Bôa Noite
Self-Released [2013]




Fire Note Says: Morningbell's Bôa Noite is an exercise in time and space jubilation!
Album Review: It's rare to find a group such as Morningbell, excess without pretension (I may be glancing your way Arcade Fire). Taking their name from Kid A's "Morning Bell," this band has big brains and even bigger hearts. The Floridian four piece consisting of brothers Travis and Eric Atria, Stacie Atria (married to Eric), and Chris Hillman take a symphonic mass and mold it into quite the production. Their 6th studio album, Bôa Noite (meaning "good night" in Portuguese), has been crafted precisely to prey on the minds of music nerds, creating a certain homespun musical jubilation. Their big brains and bigger hearts are displayed through their range of influences, which is just as astounding as it is refreshing. The short list is Romantic Classical Music; Portugal. The Man; Carey Mercer; African Field Recordings; Cloud Cult; poems; "So it goes" and "Poo-Tee-Weet;" Paul Simon; Chopin; The Soft Bulletin and Yoshimi; Tune-Yards; Kishi Bashi; and Charles Mingus as the full list goes on and on.
Bôa Noite is an album that is written like a full musical score raising the curtain off life itself. Right from the beginning "Yes Wonderful Things" helps Bôa Noite cozy right up to the listener. What really makes the listening experience especially comfortable is the lucid, electronic cooing familiarity that brings to mind the sweeter side of OK Computer or the spacey echoes of a Soft Bulletin and Yoshimi era Flaming Lips. "We Have Eyes As Well As Ears" is a cacophonous marimba conga of African tribal rhythms, with a slight Tune-Yards influence added to this stoner philosophy. Travis calls out "We are the universe's mirrors / It has no eyes but ours / Millions of years of trial and error / Made this spherical miracle power." The whimsical "I Have a Dream" has one of my favorite parts, a spoken word about the blowing up of the moon. The title track—the longest song here—resounds the call as the curtain drops for intermission.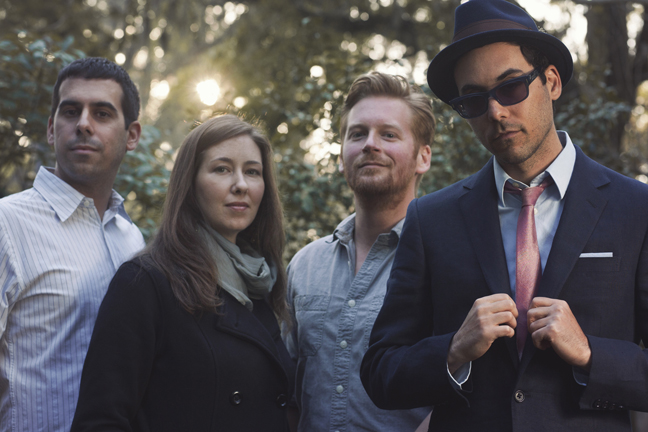 Another track with a beautiful familiarity, "Bôa Noite," gives a small shout out to "Silent Night," a lonely cosmic drift of The Flaming Lips, and the almost soliloquized atmosphere shown by Carey Mercer's Blackout Beach—the orchestral grandiosity helps too. Keeping things fresh, yet still consistent with a turn toward sex appeal, "You Needn't Have Bothered" comes together as two mashed song ideas. A very tribal like chant and theme take the lead for the first part, but about mid-way through the song turns into a casual, almost lounge-style tune. Back that up with the sultry fire of the Mingus-inspired "Hush," I almost broke into a sweat. The final song is actually one for the stage, a modern day version of the famous Hamlet soliloquy. One last string crescendo rises until the soft keys play their farewell, and before you know it you're giving a standing ovation.
Bôa Noite is a performance re-performed, a classical familiarity reimagined. A connection and flow that glissandos, crescendos, and adagios it way into the emotional pleasure centers of your brain. A primer could be composed to explain Bôa Noite–there's still so much in there I've failed to mention—but that's it the beauty. Morningbell is a humble band with a mission to make beautiful music. Mission accomplished.
Key Tracks: "We Have Eyes As Well As Ears", "Bôa Noite", "Hush"
Artists With Similar Fire: Kishi Bashi / The Flaming Lips / Swayze
Morningbell Website
Morningbell Facebook
-Reviewed by Christopher Tahy
Latest posts by Christopher Tahy
(see all)