Bosnian Rainbows


Bosnian Rainbows
Sargent House Records [2013]



Fire Note Says: Bosnian Rainbows are consistently interesting on their self-titled debut.
Album Review: It's a really funny thing to hear Mars Volta axe man/composer Omar Rodriguez Lopez talk about a less is more musical philosophy. During a recent Orange Amp promo video, Rodriguez Lopez gets down and dirty into the gear that makes him tick in his newly formed Bosnian Rainbows. Rodriguez Lopez says, "I've been trying to narrow down my pedals, for years I've traveled around with something three times this size, it just got excessive." After touring around with what seems to be 35+ guitar pedals—and don't forget an excess of solo projects and other projects alongside The Mars Volta—Bosnian Rainbows is Rodriguez Lopez's avenue to cut that out. Bosnian Rainbows is a collective of four musicians all making contributions to the creative process. The band consists of Omar (At The Drive-In, The Mars Volta, Omar Rodriguez Lopez Group) on lead guitar, backing vocals, and keys, Deantoni Parks (The Mars Volta) on drums and keys, Teri Gender Bender (Le Butcherettes) taking lead vocal duties, and finally Nick Kasper (Kudu) on the keys and synths.
Bosnian Rainbows derive their influences from all over the musical landscape. Start with some post punk and new wave flavor of Gang of Four; add some melodic influences from experimental krautrockers Can, and even throw in some of Led Zeppelin's later sound evolutions as music pushed towards the 80's. From the start, it becomes apparent what Bosnian Rainbows is trying to pull off. "Eli" has Teri exercising a bit of control on her seductive Siouxsie-like vocals. What really causes the song to pop though is the wide-open Egyptian desert feel of the instrumentation. But that seems to be the one main problem with this self-titled showing: I really want to praise Rodriguez Lopez for his stripped down approach, but there are problems.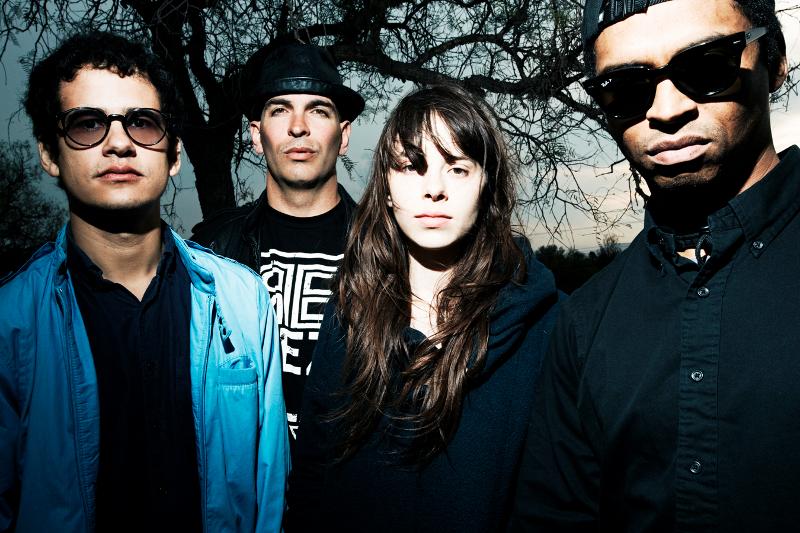 Many of the mid-period Mars Volta albums had great moments, but more often than not showed futility in excessive musical masturbation. Here, however, the newfound restraint seems to hold the song back a bit as many climaxes take the form of a new string of keys runs, a changed picking pattern with a new effect on top, or a surprise vocal inflection. But with this subtle new strategy comes consistency and focus; for example "Dig Right In Me" starts off with a signature Lopez progression and a nice bouncy chorus in maintained throughout the song. Initial single "Torn Maps" hooks the ear by throwing a beginning riff of lush, chorus pedal-affected guitar tendrils. The guitar and vocals work together to give this track a lot in common with 80's new wave. "Morning Sickness" features some of the catchier and weirder moments on the LP. Guitars and keys bounce and twinkle to reflect a long stretch of lonely, darkened streets drenched by overhead lamps—the quick, catchy, shuffling riff helps too. Penultimate track "Red," goes for sinister and squeaky clean at the same time. Gentle new wave synths caress Teri's vocals only to be interrupted by a dark, warped mood change. Rounding out the LP, "Mother, Father, Set Us Free" ends the album with a "go for broke" attitude. However, while it has a couple movement changes, it still barely manages to register on the Richter scale.
On one hand I'm excited to see Omar trying new things. Long musical works; avant-garde ambience; The Hispanic/Salsa influences; you have to look pretty hard to find these here. But on Bosnian Rainbows our retooled Volta dictator seems to have lost a bit of flash and energy during his transition. Love it or hate it, Omar and Co. are doing their own thing—they're the codex, it's up to you to decipher it.
Key Tracks: "Dig Right In Me", "Morning Sickness", "Torn Maps"
Artists With Similar Fire: Gang of Four / big Sir / Siouxsie and the Banshees
Bosnian Rainbows Website
Bosnian Rainbows Facebook
Sargent House Records
-Reviewed by Christopher Tahy
Latest posts by Christopher Tahy
(see all)