Edward Sharpe & The Magnetic Zeros


Edward Sharpe & The Magnetic Zeros
Vagrant Records [2013]



Fire Note Says: Edward Sharpe and the Magnetic Zeros offer up another batch of freedom rock.
Album Review: I remember the first time I heard "Home" off of Edward Sharpe's debut record Up From Below (2009) and thinking that with help of Jade Castrinos this band is way better than I expected. Hell, at that time Alex Ebert (Sharpe) was still better known as the lead singer from the indie band Ima Robot. Fast-forward to 2013, the band has had countless main stage live performances and are already on album number three which for many critics is still a head scratcher.
For me, I have found tracks on Edward Sharpe's last two records that had appeal, so I really expected the same here. That expectation was met with the classic knee slapper "Country Calling" which has that 70s group sing-along vibe and incorporates many of the Magnetic Zeros to help out. It is the type of hippie rollicking song you would expect from Edward Sharpe and it works. The soulful final track, "This Life", showcases how much emotion Ebert can pour into a track and easily becomes memorable as it exposes a different side to Sharpe. I also like that Castrinos again gets a solo here with "Remember To Remember" as she is a continually shining star.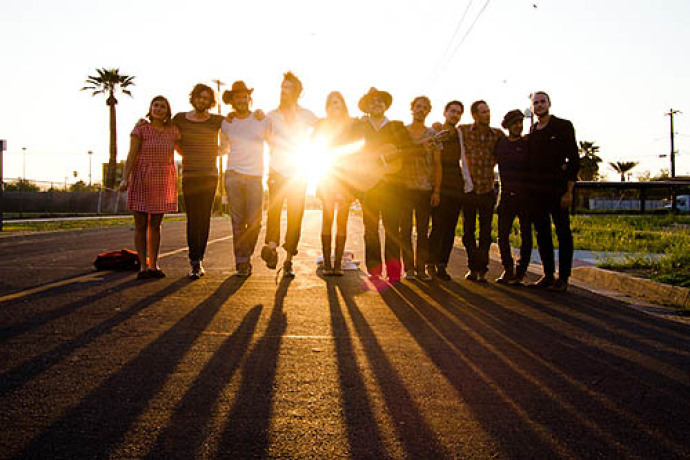 Several things on this album do hold Edward Sharpe And The Magnetic Zeros self-titled release back for me. The obvious track, "Let's Get High" sounds like it was built for the live show, which I am not totally against but the song just seems too easy and simple plus does not go anywhere for its lengthy 6:30 running time. Ebert also produced this record himself, which I think hurt its overall cohesive flow because he is too close to the music to hear it. Another big one for my ear is that for whatever reason on this album, Ebert and Castrinos do not quite have the chemistry they have had in the past. This is more about song writing and structure but you can tell listening that they are not always on the same page.
Overall this Edward Sharpe album did not live up the expected hype. It once again accomplishes several solid tracks but with a running time of 53 minutes – a fan and listener should expect more. I am sure live these songs will play better but there is just a sense of the record being too laid back. I still think Edward Sharpe and the Magnetic Zeros can put out a very entertaining album but Ebert really needs to take a step back and let someone else man the boards. This album will once again turn off the critics and grab the fans but it would be nice to do both next time out.
Key Tracks: "Country Calling", "This Life", "In The Lion"
Artists With Similar Fire: Jefferson Airplane / Devendra Banhart / My Morning Jacket
Edward Sharpe Website
Edward Sharpe Facebook
Vagrant Records
-Reviewed by Christopher Anthony
Latest posts by Christopher Anthony
(see all)