Elway


Leavetaking
Red Scare Industries [2013]



Fire Note Says: Elway's pop-punk stylings in Leavetaking are full throttle from start to finish.
Album Review: Elway is definitely the best band ever named for a quarterback taken in the storied first round of the 1983 NFL draft. Sorry Laces Out Marino! (not a real band), Jim Kelly: Bridesmaid (also not a real band), and the Blackledge Keys (probably a real band). Elway, formerly named 10-4 Eleanor, is from Fort Collins, CO. With their hometown in mind the band name definitely makes more sense, although John Elway himself has asked the band to retire the name.
Elway is a four-man punk group with a pop twist. Band members include Tim Browne (Guitar and Vocals), Joe Henderer (Bass), Garrett Carr (Drums), and Brian Van Proyen (Guitar). Listening to Leavetaking, the band's second LP under the name Elway, I was reminded of Blink-182 and Fall Out Boy. Being a fan of these two bands the sound was right up my alley. In fact Leavetaking is a bit deceptive in its beginning; "The Great Divorce" takes 40 seconds to push the nitro button. Once the band takes off they don't touch down until the end. That first track, "The Great Divorce," is a play on C.S. Lewis's book of the same name and speaks to consistent lyrical themes: relationship upheaval and faith. Punk has always been an avenue to make political statements and Elway carries that mantle with this album.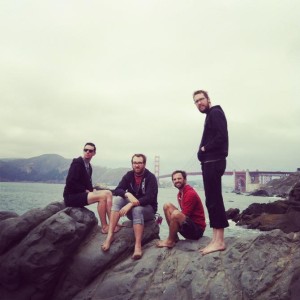 Leavetaking does catch its breath with "Christopher." The song is embedded halfway through and serves as an intermission of sorts. It's placed perfectly to gear up for what's come. Album closer "Patria Mia (Room 20)" is a 4-minute song with three acts. The song works in spite of its abrupt changes in pace and feel. It feels like a celebration at the end of the album and also reveals the tricks that Elway has up its sleeve in one song.
Elway does balls-to-the-wall punk music very well. My main concern with Leavetaking is the lack of diversity on the album. I'd like to see the band take a chance and try a song or two with a different feel next time around. If you're a fan of punk you'll feel right at home with Elway. And Todd Blackledge – you broke my heart when you beat Georgia in the 1983 Sugar Bowl. A pox on the imaginary Blackledge Keys.
Key Tracks: "The Great Divorce", "Christopher", "Patria Mia (Room 20)"
Artists With Similar Fire: Blink-182 / Japandroids / Fall Out Boy
Elway Facebook
Red Scare Industries
-Reviewed by Matt Heiner
Latest posts by Matthew Heiner
(see all)