Secret Colours


Peach
Self-Released [2013]



Fire Note Says: Secret Colours check all the boxes when it comes to psychedelia.
Album Review: Leave it to a band like Chicago's Secret Colours to right my wrongs and relieve my muddled mind. Debating review scores, struggling for references, and more times than not writing myself into a corner, I was in a rut that Secret Colours' sophomore LP Peach has finally gotten me out of. Peach doesn't pull any punches when it comes to the vibe, but it doesn't lie to you either. Secret Colours' formula takes inspiration from 60's psychedelics, newgaze, Brit-pop of an Albarn-esque quality, and grease-smothered garage that emphasizes certain blues duos when at their rockin' hardest.
A bit of an odd choice, Secret Colours, enlisted producer Brian Deck, who has been behind the boards for the likes of Modest Mouse, Gomez, and Iron & Wine. He still plays a key role in bringing a fullness of sound, all the while sharpening the edges of this polychromatic Peach. "Blackbird (Only One)" helps you out about the direction Peach wants to take; the band makes a bold statement by incorporating so many of its tricks on the first track alone. They include shambling psych-splashed guitar, subtle backwards sounds, Tommy Evans' hazy reverb drenched vocals, and a romping-stompin' chunky breakdown around the two-minute mark.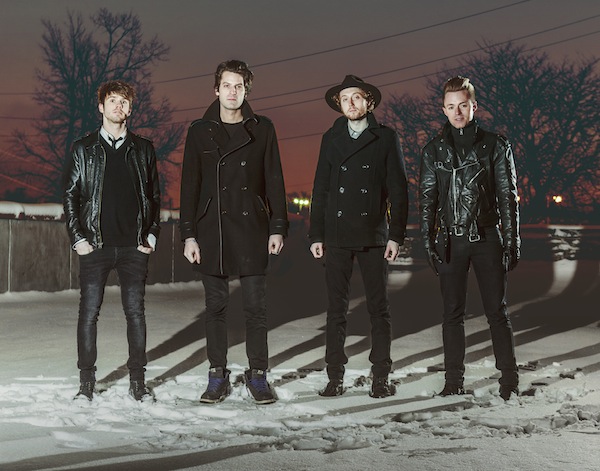 When I say that "Blackbird (Only One)" showcases all their tricks, I may have been a bit preemptive – I didn't include the sex appeal. "Freak" takes the form of a slow psych saunter with seductive Marc Bolan vocals – think a bit of "Bang a Gong (Get it On)." "Euphoric Collision" is just as it sounds, a trip back to an era steeped in psychedelics with a collision of tribal drums. While the middle few tracks might adhere to the same formula a little too well, they're by no means offensive. Evans' vocals on the title track make a nice statement, especially when mixed like a heavenly choir, as do the military like time signatures with the drums and the carnival atmosphere brought on by an interesting wind instrument.
"Faust" follows "Peach" and makes for an equally interesting track and one of my favorites. While you can zone out to "Peach," "Faust" is a rocker that grabs you by the throat, taking cues ranging from The Black Keys to Steppenwolf and The Guess Who. "My Home Is In Your Soul" is a serviceable ending that plays its part successfully, employing a retro-reverb and sunny psych shuffle that ends the album well.
Secret Colours didn't rewrite the book here, and Peach doesn't redefine a musical category. I can tell you what they did do: with its mix of garage, psych, and Brit-pop, Secret Colors have created a strange, kaleidoscopic, and wonderful brew with their Peach. This album will sit nicely next to their many mates in the genre.
Key Tracks: "Euphoric Collisions", "Peach", "Faust"
Artists With Similar Fire: Black Market Karma / The Asteroid #4 / Christian Bland & The Revelators
Secret Colours Website
Secret Colours Facebook
-Reviewed by Christopher Tahy

Latest posts by Christopher Tahy
(see all)