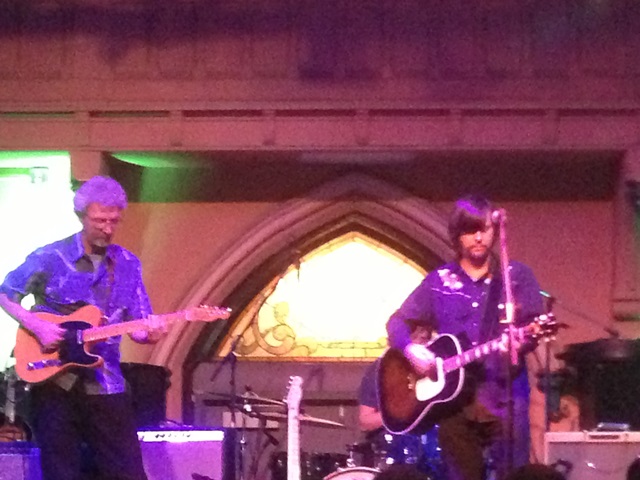 Son Volt is an interesting story in 2013 because you still can't talk about Jay Farrar without mentioning his previous band Uncle Tupelo, Tupelo's break up and then Tupelo writing partner, Jeff Tweedy, which formed Wilco. Although I do feel in 2013 that the discussion can be brief so we are going to move on! The real business at hand here was the excellent show Son Volt delivered on a perfect summer Saturday night in Newport Kentucky at the Southgate House Revival.
It was a true fans night as opening band Colonel Ford was essentially Son Volt minus Jay Farrar. Some nice honky tonk covers were the perfect setting to get the crowd in the right mood. Jay even came out and preformed one song with the guys playing slide guitar. What was funny is that I don't think that many in the crowd just realized Son Volt was on the stage.
Now it was time for some Son Volt and in a very friendly low key entrance the band came onto the stage and within seconds just started playing "Down To The Wire" from American Central Dust (2009). The best part was that the song sounded radio perfect and the band had very little tuning time. This is where you know that a great concert is about to take place.
Of course Son Volt is touring supporting their new record Honky Tonk (TFN Review HERE) so you expect multiple tracks off this record. Son Volt did just that as "Down The Highway","Seawall" and the encore opener "Hearts And Minds" played fantastic live. Even if you have listened to Honky Tonk and maybe were not into the more country sound – the tracks played live with a bit more flare and just witnessing the talented musicians in this band is worth the price of admission.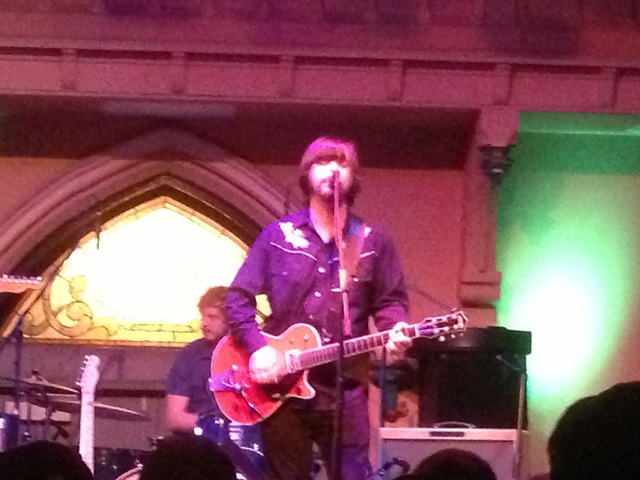 I have heard in the past that Jay Farrar is very by the numbers in concert. Not necessarily a negative but just a statement on his performance. This proved to be the case as not much dialogue with the audience happened tonight but he continued to smile and say thank you. He did however have one of his longest statements of the night when referencing the venue as it is in an old Grace Methodist Episcopal Church. Farrar commented "I haven't been to church in a while so I guess this works!" – which received a huge laugh from the fans of the mostly 30-50 year old crowd.
The lack of commentary from Jay really didn't matter to me and took nothing away from the show as Son Volt just kept coming with the tunes. The surprise song of the night was the track "Hoping Machine" from New Multitudes, the album of Woody Guthrie songs Farrar recorded with Yim Yames (My Morning Jacket), Anders Parker and Will Johnson. I have heard the song before but live, Farrar nailed it and as he ended the track with the repetitive trailing "Out of order" line the song became an easy show highlight. Even though this song has been in the current tour setlist you could see how much passion and care Farrar took performing it.
So as the show started to near its end the chatter was already starting with one big question – would Son Volt play any Uncle Tupelo? Well, I already discussed that the encore opened with "Hearts And Minds" but now the double treat of "Tear Stained Eye" and "Windfall" from Son Volt's debut Trace (1995) were absolutely stellar. Every time Farrar sung "May the wind take your troubles away" the crowd was right there with him and it sounded like you were listening to the record. They closed the set with the country classic "Stop the World and Let Me Off" and it just highlighted Son Volt's true roots. The band then said their polite and quick goodbyes and most fans thought the night was over. Even the venue started to turn on several "shows over" lights and fans were already moving to the exits until guess what? The band came back out on stage. With that, Son Volt picked back up their instruments and played a rousing version of Uncle Tupelo's "Chickamauga" that boosted the already excellent night up a notch more. It once again was note perfect and played like it was a new song the band was trying to push.
I would definitely recommend catching this tour because Son Volt gives 110%. The funny thing is on the way home I saw a billboard for the Americanarama Festival which features Bob Dylan, My Morning Jacket and Wilco. It made me think a bit on how these two groups have went completely separate ways in the public eye but I will tell you that Son Volt didn't care tonight as they performed like they were playing in front of a 50 thousand member audience and for that I have great respect!
Son Volt Website
Son Volt Facebook
-Review by Christopher Anthony
Latest posts by Christopher Anthony
(see all)