The Black Keys & RZA


The Baddest Man Alive
Soul Temple Music [2013]


You probably heard this track back in October last year when it appeared on RZA's The Man With The Iron Fists Soundtrack but it was nice to see it recently issued as a 7-inch. I am sure you have heard of The Black Keys but may not be familiar with RZA. He essentially is the main man behind classic rap group Wu-Tang Clan and now actor.
Regardless of your liking for the film this is a great music collaboration between RZA and the Keys as their bluesy groove gives the A-side single its flare and finds both artists represented vocally. You get The Black Keys in the front and back and when "I'm the baddest man alive" chorus kicks in you can't help but sway. The middle rap here is a perfect boost for the track and gives it just a bit more of a swagger edge. The B-side is a simple instrumental version of the song which works to just here the slick groove.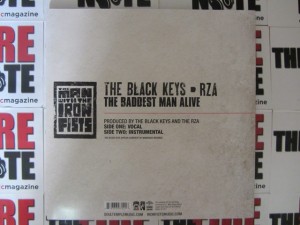 The jacket is a standard artwork designed cardboard cover. The wax is black and limited although we do not have a pressing total. The 7-inch also comes with a digital download. If you want one they are most likely sold out at conventional places so eBaby might be your best try.
RZA Website
The Black Keys Website
Soul Temple Music
-Feature by Christopher Anthony
Latest posts by Christopher Anthony
(see all)