I Am Empire


Anchors
Tooth & Nail Records [2013]



Fire Note Says: I Am Empire makes a compelling case with Anchors.
Album Review: I Am Empire is a four-piece band coming out of San Jose, CA. Anchors is their third overall LP (second with their current label Tooth & Nail Records). For the most part Christian themed hard rock doesn't do much for me but there have been bands (Jars of Clay, Mutemath, Marilyn Manson-jk) that I've really enjoyed in the past. As long as the Christian influence in the lyrics is not too overt I can get behind the music. I Am Empire approaches that line from time to time but for the most part let their music stand on their own.
Album opener "Gravity Bomb" evokes Muse in many ways, from the vocals to the screaming guitar to the oh-oh-ohs of the chorus. This track helped strip me of my bias towards Anchors as a Christian album. Interestingly enough some of the most musically complex tracks also happen to speak to matters of faith. The guitar work on "Sing" is stupendous and the swelling chorus has undeniable appeal. This track also happens to the most praise-y of the bunch. "Mastermind Is Me" has a guitar hook that hits hard and won't let go. The themes of salvation, good and evil, and struggle are prevalent on most entries on Anchors.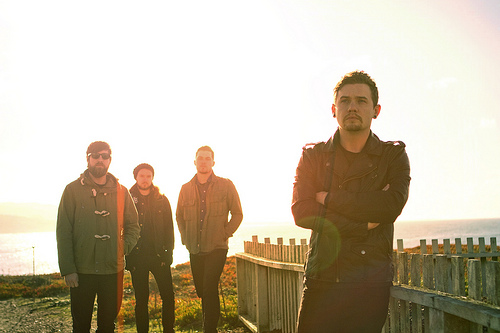 There is not much diversity in sound on Anchors – there are hard songs and then harder ones. That being said I didn't get tired in the 32+ minutes that the album runs. This speaks to the strength of the music and song construction. I Am Empire have talent and play with a passion that comes through to the listener. For those of you who are neutral are enjoy Christian popular music, this album is a no-brainer. For fans of hard rock with a slight bias against the genre this is a harder sell but still worth your time.
Key Tracks: "Gravity Bomb", "Sing", "The Mastermind Is Me"
Artists With Similar Fire: Muse / Mutemath / Creed
I Am Empire Facebook
Tooth & Nail Records
-Reviewed by Matthew Heiner
Latest posts by Matthew Heiner
(see all)