Double Dagger


333
Thrill Jockey Records [2013]



Fire Note Says: An incredible swan song from Double Dagger!
Album Review: Baltimore's Double Dagger, broke up in late 2011, and their final record, 333, is now seeing the light of day. The trio has now gone their separate ways, playing with the likes of Roomrunner, Peals, and Pure Junk, but 333 shows just how great this band was right up until the very end. This isn't the sound of a band that just fell apart, no, this is the sound of a band who wanted to make their definitive statement and go out with a bang, and that is precisely what they have done.
While clocking in at less than 25 minutes, 333 still plays like a full length. Its sequencing is sublime, and though it counts two instrumentals among its 6 tracks, those songs serve as an essential link between the other songs. The drums hit super hard on "The Mirror", the bass rumbles, and the vocals are incredibly intense. I could listen to this stuff all day, at over 6 minutes, the song feels much shorter and makes you instantly want to hit repeat, and that's just track 1! "Foreign Bodies" is a short 2:40 blast of power and fury. You can't convince me that drummer Denny Bowen isn't an octopus at this point. He is seemingly everywhere at once on the drums, it's another knockout performance. "Space Dust" is the first of the instrumentals, Bruce Willen's lead bass is the highlight here, and it's played like a lead guitar. It serves as a nice chillout track after the full on assault of the previous two tracks. "Supply/Demand" kicks off the second half and vocalist Nolen Strals steals the show on this one. "Figure Eights" is the second instrumental, and it's a good one, the music is very cyclical. Much like the title of the track, it seems to go around and around, before hitting a snarling solo at about the minute and a half mark, which kicks the intensity up a notch and delivers us to 333's epic closer, "Heretic's Hymn". If "Heretic's Hymn" is truly the last song this band ever releases, well they went out with their definitive song. It's a near 7:30 juggernaut that hits on everything the band excels at. Impassioned vocals, powerful drumming and a rock solid riff, before breaking down into a more reflective and psychedelic second half that contains the most powerful lyric on the record "but if this is my last song, and these are the last words I ever write, I hope you won't forget, You're only free making art outside". These guys knew this was the end of the line for them, so they left their listeners with a challenge to push themselves to create their own art, outside of the constraints of the system, and with the freedom to do whatever they wanted. Those are powerful words to go out on, what a great finish to a record, and what a perfect way to end a band.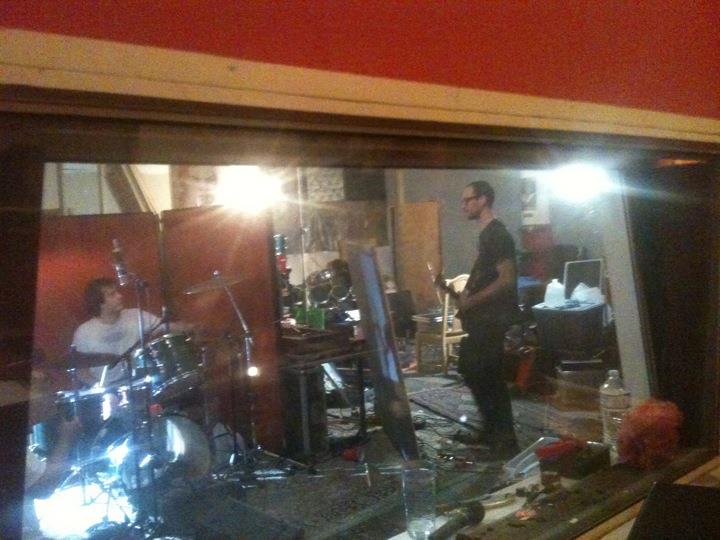 I don't know if Double Dagger will ever record again, probably not, but 333 should serve as a fitting epitaph and swan song for the band. I know I immediately downloaded the rest of the band's discography after letting 333 sink in for a few days. I'm betting you will want to as well.
Key Tracks: "Heretic's Hymn", "The Mirror", "Foreign Bodies"
Artists With Similar Fire: Big Dick / Roomrunner / Pissed Jeans
Double Dagger Website
Double Dagger Facebook
Thrill Jockey Records
-Reviewed by Kevin Poindexter
Latest posts by Kevin Poindexter
(see all)