Ben Folds Five


Live
Sony Records [2013]



Fire Note Says: Ben Folds Five puts out a fan-pleasing but uneven live album.
Album Review: One of the songs that I most identify with high school is "Underground." I remember driving my blue Chevy Beretta to school, listening to the radio (94.1) and there being this weird song about not being cool in school and having a long and lonely face. The song struck the right chord with me and for such I have a warm affection for Ben Folds Five. I also think Ben Folds made The Sing Off and he should be a judge on every music competition. I say all of this to illustrate that I like Ben Folds in general in many of his iterations. However, I've never been able to join the cult of Ben Folds for reasons I'll explain below. Come to think of it, that might be a fun cult to join though.
Live is a collection of performances from 2012 and 2013 – these are recent performances. Songs are culled from 10 different shows, but the album is constructed in a way in which this is not obvious; the flow is there except for the end of the album when one more song is promised and never comes. With the band's humor maybe this was intentional. The LP starts with "Jackson Cannery" which brings a sufficient energy to the proceedings. The next track "Erase Me" is the perfect example of the side of BFF that I have no tolerance for. It left me in such a sour mood the first time I listened to the album that I had trouble putting together my thoughts for a review. The self-indulgent piano, the vocals with the nails-on-chalkboard quality, it just didn't work for me. There were a few other songs that I had similar reactions to but this was the worst offender.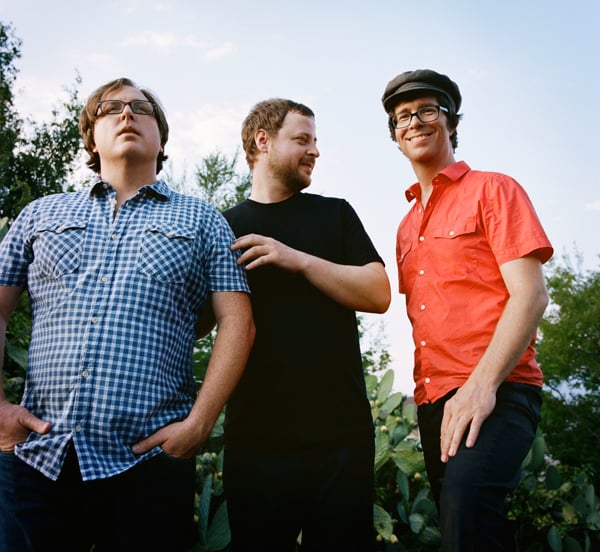 But the good outweighs the bad (though does make the album an uneven experience). This particular version of "Underground" does the song justice. I was familiar with most of the songs on Live but "Draw A Crowd" was one that I hadn't paid much attention to before. This one stood out to me; it's great when a live rendition of a song gives it new life or helps it get noticed in a new or different way. It also helps that this was one of the more straightforward (read: no frenzied piano solos) songs on Live. The band's trademark humor is also given time to shine in "One Chord Blues/Billie's Bounce" and "Song for the Dumped." The former is more fun and the latter – well if you're reading this you know what it's about. The title might give it away too. It's angry and profane but cathartic. If you've been there it's hard not to smile while soaking in its (good) frenzied chaos.
Live will please fans of BFF and speak to the talent and energy that the band injects in its live performances. I was reminded why there's almost always a BFF song or two in any playlist I create, but it can be difficult for me to stomach the band in large doses. For a dinosaur like me who still listens to albums this is a drawback. Others may not have this issue. Regardless there is something here for everyone.
Key Tracks: "Draw A Crowd," Underground," "Song for the Dumped"
Artists With Similar Fire: Barenaked Ladies / Guster / Ben Kweller
Ben Folds Five Website
Ben Folds Five Facebook
Sony Records
-Reviewed by Matthew Heiner
Latest posts by Matthew Heiner
(see all)