The Lonelyhearts


Years In The Great Interior
Maximum Ames Records [2013]



Fire Note Says: There's a lot more going on with The Lonelyhearts than a first listen might suggest.
Album Review: The practice of writing good and interesting lyrics is somewhat of a lost art. Folk singers were the true torch carriers throughout much of the Rock era when carnal desires expressed in a song sold better than the social or political observations of a hippie. The lowest common denominator has always been a sound business model. Fortunately we live in the days of plenty and there are still some stubborn musicians who craft their words very carefully. Originally hailing from the Bay area, the duo of John Lindenbaum and Andre Perry now live in Fort Collins, Colorado and Iowa City, Iowa respectively. Unsurprisingly, these are both college towns (Colorado State and the University of Iowa) and there's a distinct English major flair to their music. Built around acoustic guitar, organ and two-part harmonies the ten songs on Years In The Great Interior still have a cool West Coast vibe but there's a marked resemblance to fellow Iowan label-mates The Poison Control Center – most notably on lead off track "Princes Of Rubble." And right from the get-go they attempt to wrest your attention and force you to listen to the words: "Oh snap! It's an earthquake!"
Tales of diseased trees, despair and drug abuse belie the chipper, sunny tone set by the Shins-like instrumentation. On "Autumn Percussion" Perry sings this charming couplet: "I don't know what keeps my mouth off of the pistol/I don't know what keeps my nose out of the crystal." The everyday problems they see around them inspire this kind of rhyme but in the next song, "Taking You With Me" we get a very twisted story that must be ripped from some small town newspaper. Messing around with a soldier's girlfriend is not, apparently, such a good idea. "He just got back from Iraq/Medical discharge from the Corps/ Given six months to live/He arrived to settle one last score." Things progress and we get a murder and subsequent trial. Not the kind of subject matter one expects from a pop song. Then we get the first of two songs about Lorain, Ohio (of all places.) "Welcome Center: Lorain" takes us through bad relationships, bounced checks, closed factories and, yes, drugs ("Pass the lines/Take off your clothes.") It's haunting with soft-rock keyboards and Lindenbaum's talk-singing a la Lou Reed. There's a good deal of thought given to each sonic detail. Things could easily get bogged down but The Lonelyhearts do a great job of self-editing. The buildup is organic and the song ends at just the right time. Album centerpiece, "The California Oak Mortality Task Force" uses the organic tree metaphor to describe the rot hidden behind the closed doors of any town. In Perry's reedy tenor he sings: "We stayed too long at a party on Oak Street/The drinks were strong enough to blur the blather of coke speak." Once again they use dramatic tension in adding layers and instruments and then call it quits. As if too tired to go on.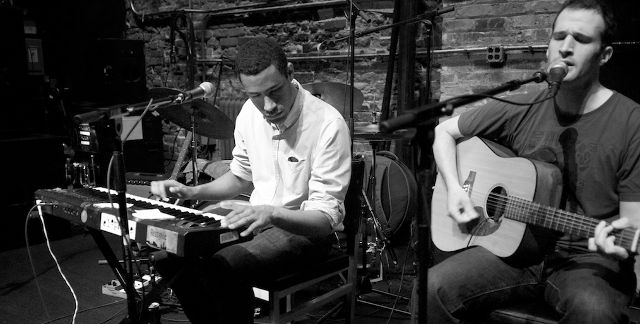 The second track about Lorain is "Queen City Of The Lakes" and the familiar scepter of substance abuse looms large. "We were broken and free and too young for the pain/On days I wasn't able, there was always cocaine." Later, on the superbly titled "Mutli-Unti Housing Makes Bad Neighbors," Perry continues putting his words in some dark settings: "Suspicious smells, oh it must be the meth/Such vicious dogs must be guarding a chef." There's no shortage of disdain for white kids singing blues, drinking jagermeister, wearing Che Guevara T's and "tipping bongs to hollow protest songs." He does not appreciate the noise. He has to go to work in the morning. If true, that's a shame. A point of view this unique in songs this good should be more than enough for Perry and Lindenbaum to scratch together a living from their musical efforts. But alas I fear the worst and take him at his word on this. It seems most of the artists I really like these days have to work day jobs, fight real battles in the real world. And maybe this explains why all of this feels so pure. I mean, who really wants to hear Springsteen or some other millionaire complain about how tough it is out there. As the Minutemen once sang: "Too may liars singing songs." That line does not apply here.
Key Tracks: "Multi-Unti Housing Makes Bad Neighbors", "The California Oak Mortality Task Force", "Welcome Center: Lorain"
Artists With Similar Fire: The Shins / Poison Control Center / Wilco
The Lonelyhearts Website
The Lonelyhearts Facebook
Maximum Ames Records
-Reviewed by Scot Lade
Latest posts by Scot Lade
(see all)