And So I Watch You From Afar


All Hail Bright Futures
Sargent House Records [2013]



Fire Note Says: ASIWYFA create melodic, engaging, (mostly) instrumental rock tunes.
Album Review: Instrumental music, especially instrumental rock music, often walks a thin line between being something worthy of your full attention and merely pleasant background music. Thankfully for ASIWYFA, they are firmly in the former camp, crafting dynamic tracks that don't feel any less effective for their almost complete lack of vocals. All Hail Bright Futures, their third LP and first for Sargent House, manages to remain diverse enough over its twelve tracks to hold the attention of even the most ADD listener.
The Belfast, Northern Ireland-based group may sport a fairly standard rock band line up (two guitars, bass and drums), but these are anything but straightforward tunes. The album opens with the one-two punch of "Eunoia" and "Big Things Do Remarkable," the former serving as an intro to the latter. The guitars on " Big Things" are the highlight of these two tracks, being catchy enough to get stuck in your head but complex enough to not get boring. It also features some of the album's only vocals, chanted by all members of the band in unison towards the tail end of the track (the sun / the sun / the sun / is in our eyes).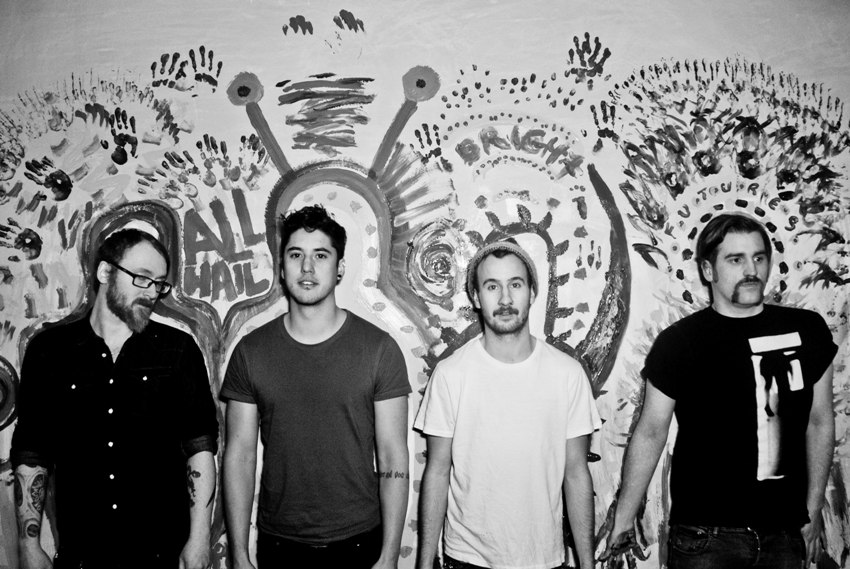 Throughout the album the band keeps things interesting by varying their guitar tones, tempos, and songwriting approach. Some tracks float along, occasionally punctuated with guitar stabs or brief gang vocals, while others rock right out of the gate. "The Stay Golden" brings in some electronic bleeps and rolling drums, while highlight "Trails" approaches Sigur Rós sonic-bliss territory, with gorgeous strings accompanied by cinematic brass and atmospheric samples. Another stand out is "Ka Ba Ta Bo Da Ka," an odd composition that starts with the band speaking nonsensical syllables and builds from there to include some Vampire Weekend-style guitar that almost sounds like steel drums. Speaking of drums, they are one of the best aspects of ASIWYFA's sound; one gets the sense that drummer/percussionist Chris Wee really knows when to hold back and when to let loose.
All Hail Bright Futures isn't for everyone. Some may be thrown by the band's reluctance to add vocals, others by their tendency to inject random guitar and drum freak-outs into their tracks. But if you're looking for something a little different that has a bit of flash and can hold your attention for forty-odd minutes, give And So I Watch You From Afar a chance—they're much more accessible than their unwieldy moniker would suggest.
Key Tracks: "Big Things Do Remarkable" / "Trails" / "Ka Ba Ta Bo Da Ka"
Artists With Similar Fire: Sigur Rós / Battles / MUTEMATH
And So I Watch You From Afar Facebook
Sargent House Records
-Reviewed by Simon Workman
Latest posts by Simon Workman
(see all)