Surfer Blood


Pythons
Warner Bros. Records [2013]



Fire Note Says: Surfer Blood's sophomore effort is cleaner but less charming than their debut.
Album Review: Surfer Blood's debut album Astro Coast was one of the best albums of 2010. The four-piece from Florida wowed with their guitar skills and lo-fi production, which combined to form a unique and memorable sound. Now that Surfer Blood is on a major label (Warner Bros.) they have more toys and cleaner production. This is one of the key differences between Pythons and their debut – that and less of an emphasis on that ubiquitous guitar work. For these reasons Pythons doesn't quite stand up to Astro Coast. Pythons is not a terrible album by any means; it's just missing that special something.
Pythons kicks off with "Demon Dance," which has that familiar light, airy, surfer rock feel to it. Towards the end of the song John Paul Pitts' vocals take a growling demonic turn. The trick doesn't work too well and feels out of place. A similar tactic is used on "Weird Shapes" and I wonder if Surfer Blood were trying too hard to add something different to this album. "Weird Shapes" has a great hook to it and a sing-along chorus and the screams don't feel as out of place. Continuing with the otherworldly theme is "Blair Witch" whose lyrics aren't actually as focused on the occult as the two aforementioned tracks. It also has a nice hook – Surfer Blood's knack for creating those hooks keeps Pythons moving along at a pleasant pace. "Prom Song" features some of the best guitar on the album and ends the album on a slightly different, slower note.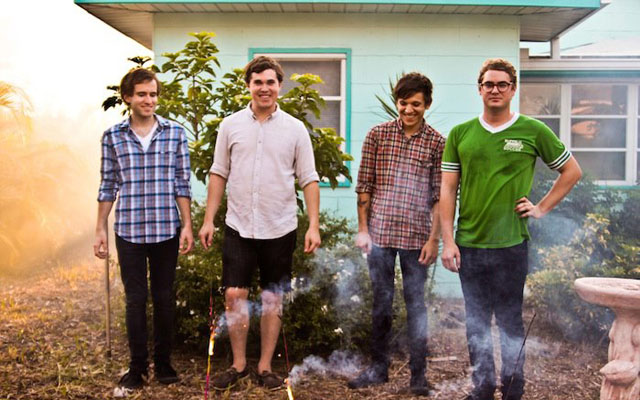 The improved production value led to Pitts' voice stealing most of the attention from the guitars. I found myself getting a little tired of his lack of vocal range by the end of Pythons. The few risks that Surfer Blood take on their second LP don't have the pay-off I was hoping for. For that reason the album feels like a decent alternative rock production but perhaps a step backwards for the band. It's a fun ride while it lasts but doesn't leave the indelible mark that the first album did.
Key Tracks: "Weird Shapes", "Blair Witch", "Prom Song"
Artists With Similar Fire: Real Estate / R.E.M. / Ty Segall Band
Surfer Blood Website
Surfer Blood Facebook
Warner Bros Records
-Reviewed by Matthew Heiner
Latest posts by Matthew Heiner
(see all)